Nitronic 30 is a nitrogen-strengthened austenitic stainless steel developed for applications requiring good aqueous corrosion resistance combined with good resistance to abrasive and metal-to-metal wear.
Applications Potential
Coal handling equipment: screens, chute liners, buckets. Well screens, mixing tanks, hose clamps. Mining equipment
Good Wet Abrasion Resistance
Good Resistance to Aqueous and Atmospheric Corrosion
High Strength
Economy
NITRONIC 30 Stainless Steel offers significantly higher strength than Type 304 and potential for applications requiring good resistance to aqueous and atmospheric corrosion resistance combined with good toughness and economy.
Specific potential applications include automotive hose clamps, safety belt anchors, truck and bus frames, water supply and control structures, sewage treatment plant structures, bulk solids handling equipment, magnetic ore separator screens, coal buckets and hopper cars.
Stainless steels have served successfully in many structural
components in the transportation industry. Bus space frames and bumpers take advantage of the excellent fabricability and high strength and toughness of stainless. Tensilized NITRONIC 30 Stainless Steel has been used in rapid transit structurals where the strength-to-weight ratio of up to three times that of carbon steel has improved operating efficiency. Rear frames of refrigerated trucks are easily welded and formed from NITRONIC 30 Stainless Steel, resulting in protective units that can withstand impact blows without cracking. Shipboard container structurals use stainless steel successfully because carbon steel becomes scuffed and rusts wherever the paint is damaged.
Chemistry typical
Carbon: 0.10 max
Manganese: 7.00-9.00
Silicon: 1.00 max
Chromium: 15.00-17.00
Nickel: 1.50-3.00
Copper: 1.00 max
Nitrogen: 0.15-0.30
Physical Properties
Density: 0.284 lbs/in3 7 .862 g/cm3
Modulus of Elasticity: ksi (MPa)
28 x 103 (193 x 103) in tension
Magnetic Permeability: H = 200: Annealed < 1.011
Forms
Coil – Sheet, Strip, Foil
Wire – Profile, Round, Flat, Square
Properties: annealed typical
Ultimate Tensile Strength: 108 KSI (749 MPa)
Yield Strength: 49 KSI (339 MPa)
Elongation: 56% min
Hardness: RB 89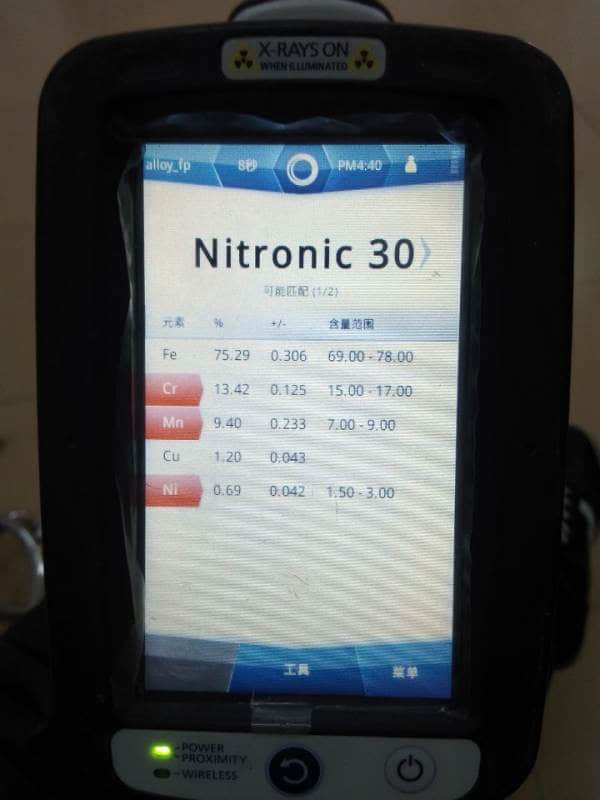 Applications Potential
Properties: tempered typical
10% Cold Work
Ultimate Tensile Strength: 124 KSI (856 MPa)
Yield Strength: 78 KSI (539 MPa)
Elongation: 44%
Hardness: Re 23.5
20% Cold Work
Ultimate Tensile Strength: 150 KSI (1038 MPa)
Yield Strength: 101 KSI (696 MPa)
Elongation: 29%
Hardness: Re 34.5
30% Cold Work
Ultimate Tensile Strength: 174 KSI (1204 MPa)
Yield Strength: 137 KSI (948 MPa)
Elongation: 20%
Hardness: Re 39
40% Cold Work
Ultimate Tensile Strength: 204 KSI (1411 MPa)
Yield Strength: 173 KSI (1195 MPa)
Elongation: 8%
Hardness: Re 44
50% Cold Work
Ultimate Tensile Strength: 204 KSI (1411 MPa)
Yield Strength: 173 KSI (1195 MPa)
Elongation: 8%
Hardness: Re 44
60% Cold Work
Ultimate Tensile Strength: 214 KSI (1478 MPa)
Yield Strength: 184 KSI (1271 MPa)
Elongation: 6%
Hardness: Re 45
NITRONIC 30 has high impact resistance, making it ideal for a range of heavy duty applications. The NITRONIC30 has proven to be the endurance leader in coal handling equipment and coal preparation plants, with a lifespan twice that of its nearest competitor.
Choosing the best material for the job goes well beyond the initial price of the material. Maintenance, downtime and replacement costs associated with poor material performance can wreak havoc on production time and budgets. NITRONIC30 has been designed with these realities in mind.
NITRONIC®30 is an excellent grade to replace AR400, it is a wear-resistant steel, wear-resistant and corrosion-resistant, wear-resistant stainless steel. Fabrication, including bending and welding, is permitted. Mainly used for abrasion resistance to coal, gravel and other substrates. Truck chassis and bucket liners as well as chutes and gates are the main applications.
Equivalent materials to Nitronic 30™ are:
Fabrication And Heat Treatment
Annealing
Nitronic 30™ is soaked at 1038-1121°C (1900-2050°F) followed by rapid quenching in water or air.
Welding
Nitronic 30™ is a nitrogen strengthened and austenitic steel possessing high strength and corrosion resistance. This alloy can be readily welded and is non-magnetic even after rough forming operations.
Forging
Nitronic 30™ is heated to 1093°C (2000°F), soaked and again heated to 1176°C (2150°F) and finally equalized before being forged.
Forming
In the forming process Nitronic 30™ need not be per-heated. Commonly used welding techniques can be used to form this alloy.
Machinability
Commonly used machining techniques can be used for Nitronic 30™. Good machining results can be obtained based on the utilization of resulfurized lubricant and positive and slow speeds. Breakers and curlers are used in the welding process due to the thready and tough texture of the chips.
Hardening
Nitronic 30™ can be hardened through a cold working process and hardening will not take place when this alloy is exposed to thermal treatment.