What is ASTM A335 P91?
ASTM A335 P91 is the part of ASTM A335, The pipe shall be suitable for bending, flanging, and similar forming operations, and for fusion welding. The steel material shall conform to chemical composition, tensile property, and hardness requirements.
The range of ASTM A335 P91 pipe sizes that may be examined by each method shall be subjected to the limitations in the scope of the respective practice.
It is designed for enhanced creep strength, making it a creep strength enhanced ferritic (CSEF). This metal is made by normalizing at 1050 °C, air cooling to 200 °C, and then tempered through heating to 760 °C. This process is the main reason behind P91's creep strength and durability. P91 stands for the metal's composition of 9% chrome and 1% molybdenum plus vanadium. The chrome increases temperature strength and oxidation resistance. The molybdenum increases the elasticity, resistance to wear, and high temperature creep strength. More characteristics to note of ASTM A335 P91 Type 2:
Non-deteriorating
Decreased thickness
Higher creep strength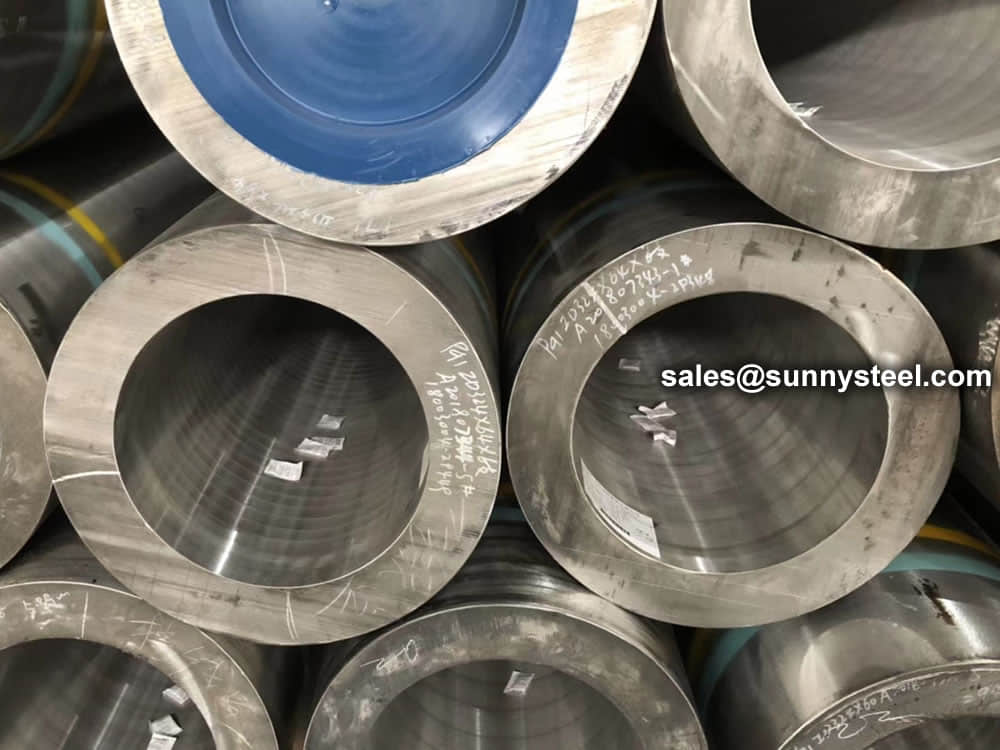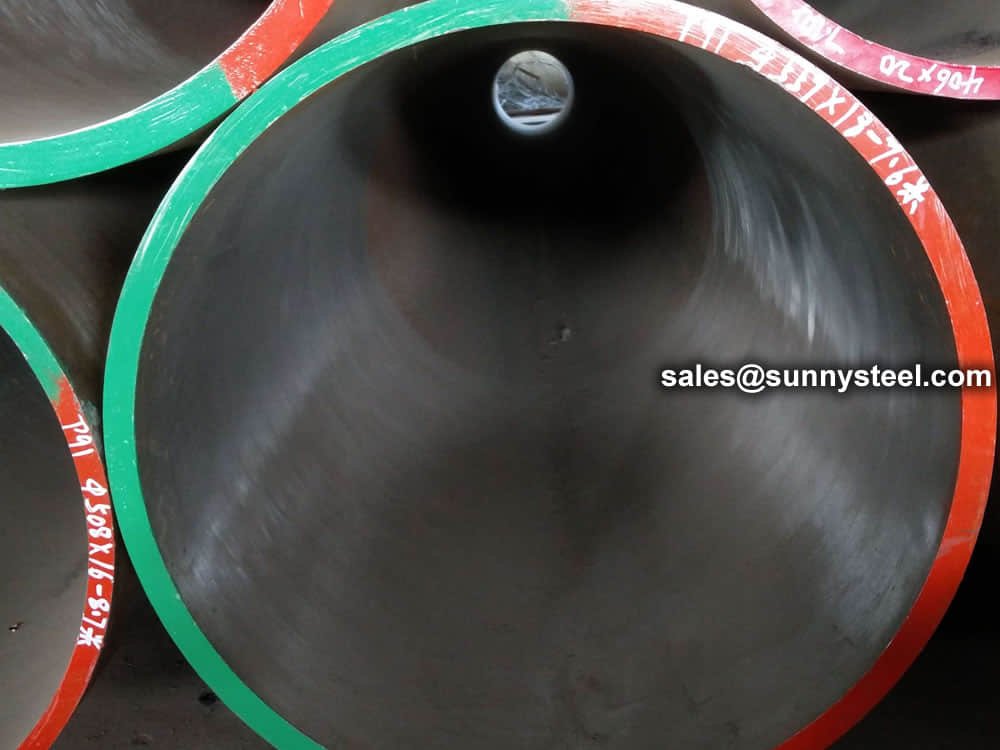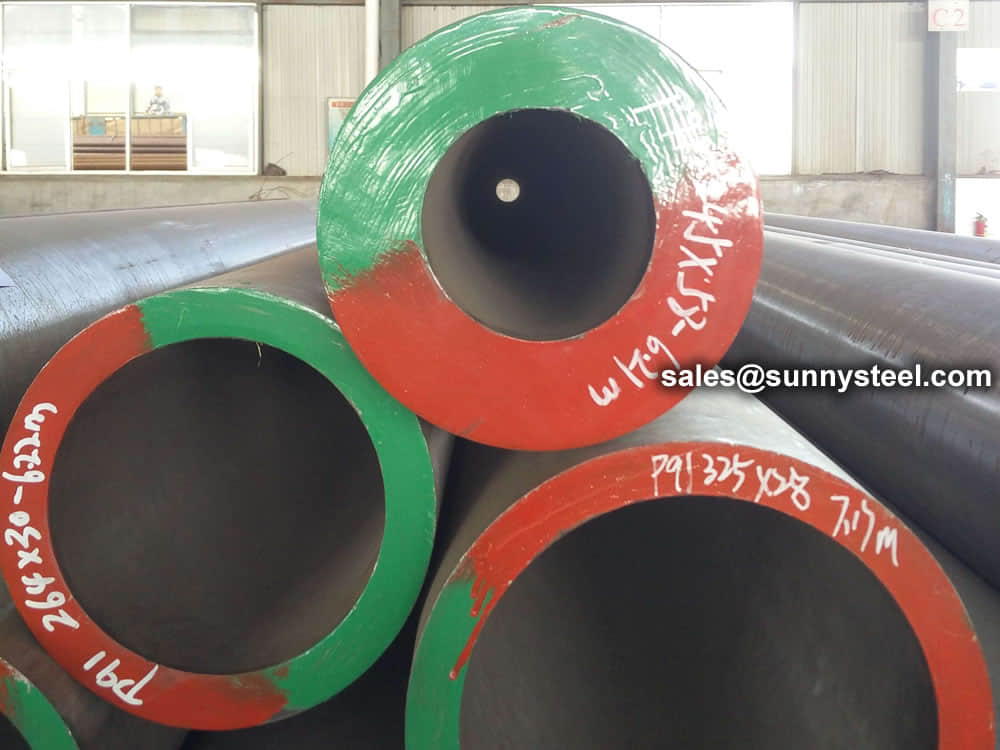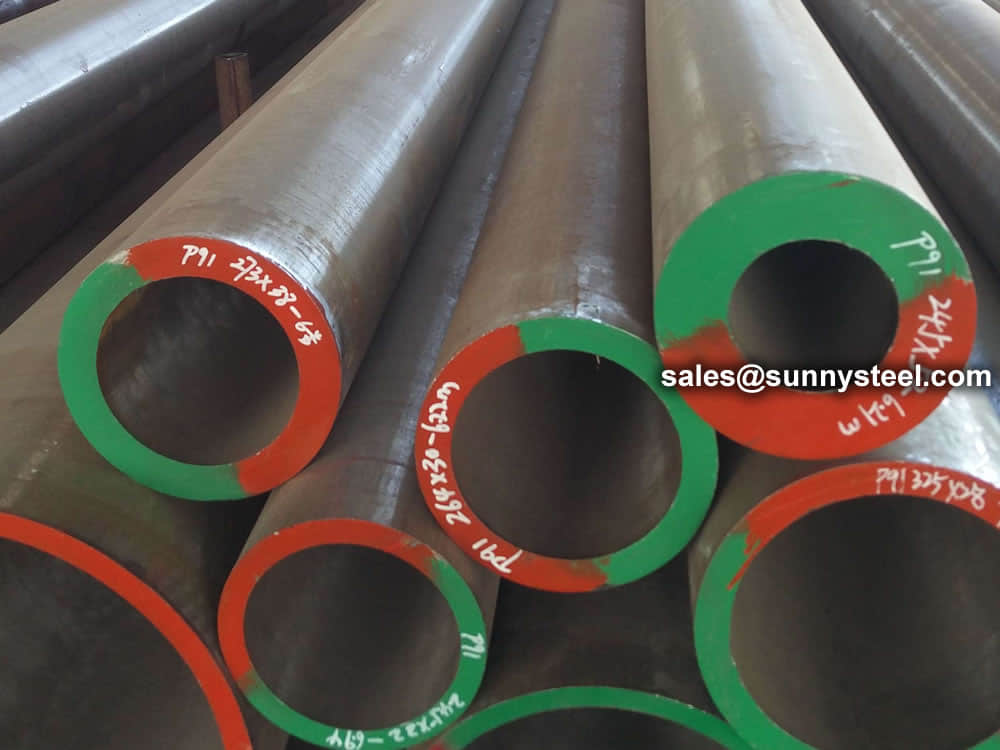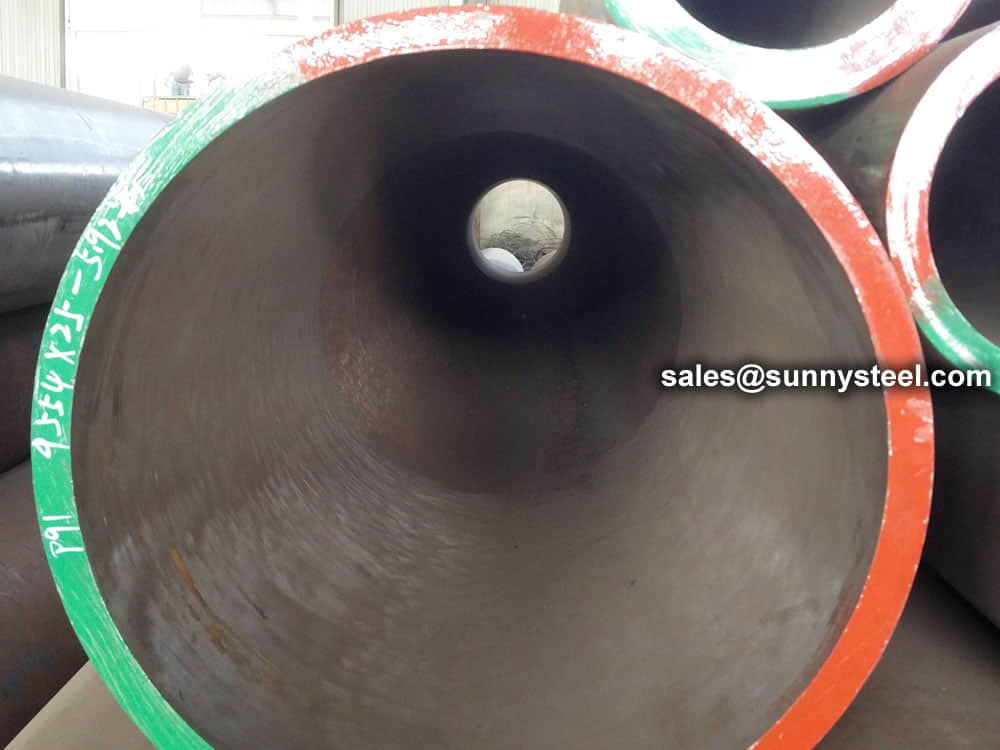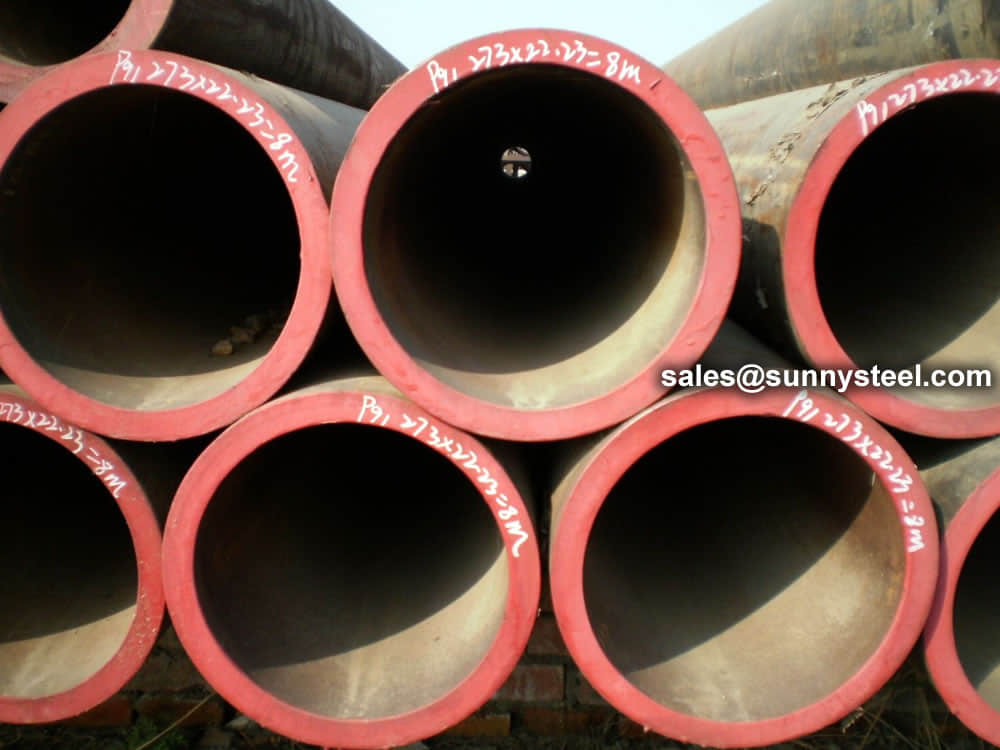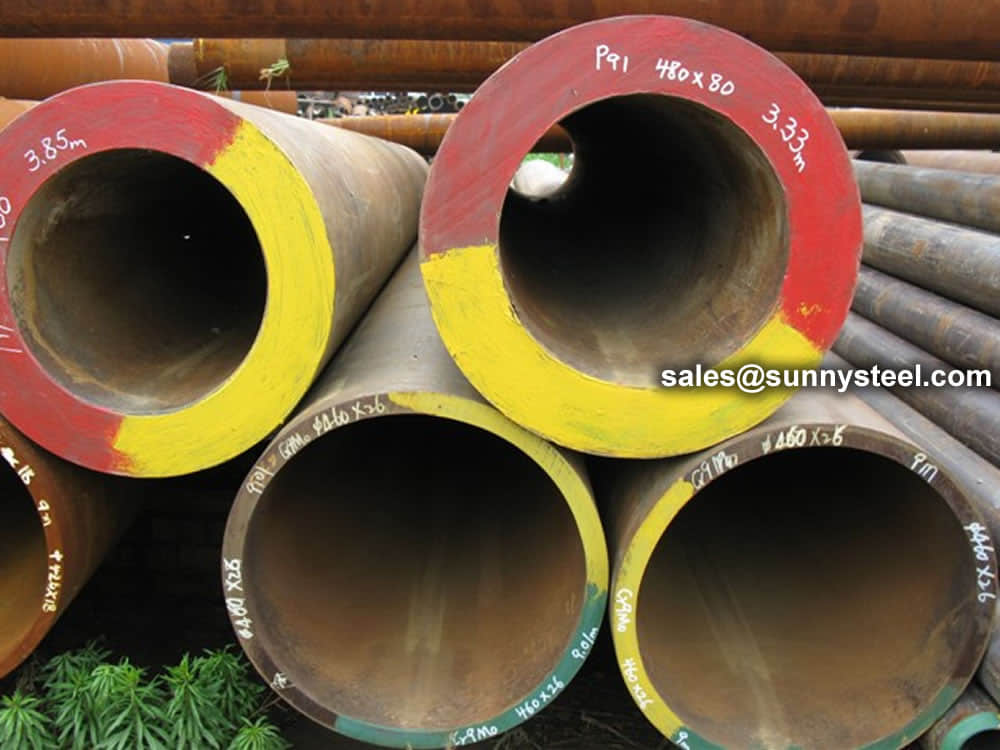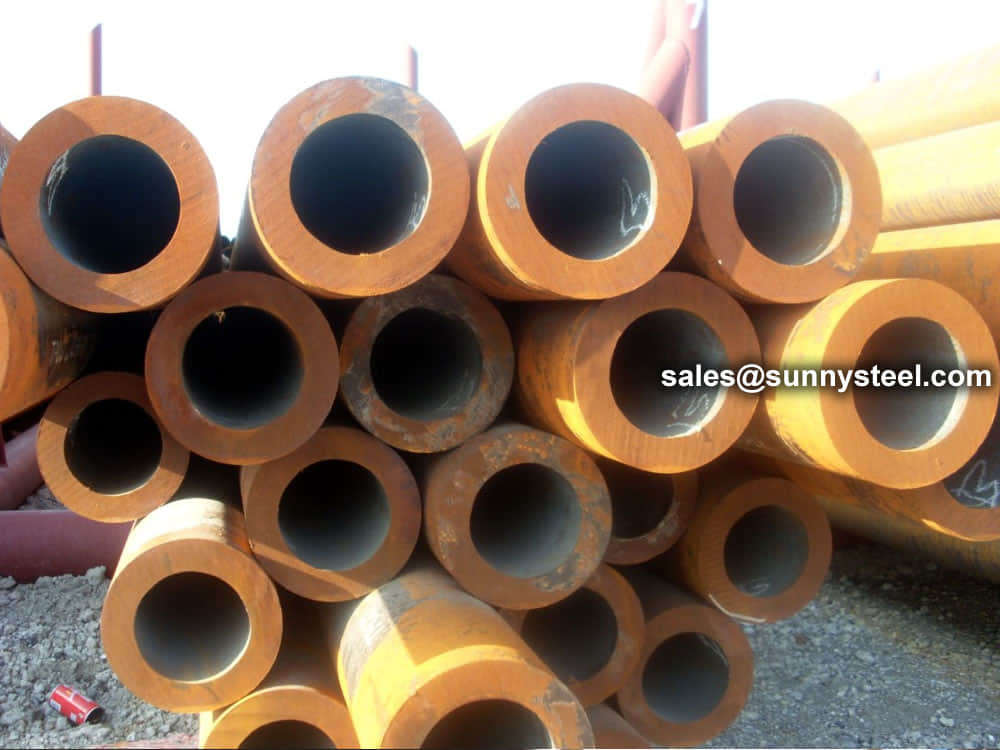 ASTM A335 Grade P91 pipe is premium grade pipe applied for high pressure boiler. And P91 pipe is ideal when it comes to bending, flanging or when it is used in similar operations such as welding. The material of steel should stick to the composition of chemicals, tensile property and the requirements of hardness.
ASTM A335 P91 alloy steel pipe and high pressure boiler pipes are the two variants available and the range is dependent based on the size, which is solely based on the usage. The length of the pipe will be subject to hydrostatic test and there will also be a non-destructive examination based on the specifications.
ASTM A335 P91 high pressure semaless boiler pipe, The range of ASTM A335 P91 seamless alloy steel pipe sizes that may be examined by each method shall be subjected to the limitations in the scope of the respective practice.
Outer Dimensions: 19.05mm – 114.3mm
Wall Thickness: 2.0mm – 14 mm
Length: max 16000mm
Chemical Composition(%) of ASTM A335 P91 Pipe
| | |
| --- | --- |
| Compositions | Data |
| UNS Designa-tion | K91560 |
| Carbon | 0.08-0.12 |
| Manganese | 0.30-0.60 |
| Phosphorus(max.) | 0.025 |
| Sulfur(max.) | 0.025 |
| Silicon(max.) | 0.50 |
| Nickel | … |
| Chromium | 4.00-6.00 |
| Molybdenum | 0.45-0.65 |
| Other Elements | … |
Chromium, or chrome, improves high-temperature strength and increases oxidation resistance. It is virtually irreplaceable in resisting oxidation at elevated temperatures. Chrome also raises the tensile, yield and hardness at room temperatures.
Molybdenum increases the strength, elastic limit, resistance to wear, impact qualities and hardenability. It increases the resistance to softening, restrains grain growth and makes chromium steel less susceptible to embrittlement. Moly is also the most effective additive for increasing high temperature creep strength, or creep resistance. It also enhances the corrosion resistance of steel and inhibits pitting.
Also present are smaller quantities of nickel and manganese which increase the hardenability of the steel.
The addition of Vanadium (V) and Columbium/Niobium (Cb/Nb) as well as the control of Nitrogen (N) greatly Improves Creep Strength.
More important than the alloying elements is the formation of this alloy steel. The steel is formed by normalizing at 1050 °C, then air cooling down to 200 °C. It is then tempered by heating to 760 °C. The temperatures and cooling rates produce the microstructure that results in the high creep strength properties.
Mechanical properties of ASTM A335 P91 Pipe
| | |
| --- | --- |
| Properties | Data |
| Tensile strength, min, (MPa) | 415 Mpa |
| Yield strength, min, (MPa) | 205 Mpa |
| Elongation, min, (%), L/T | 30/20 |
Mechanical Tests Specified
Transverse or Longitudinal Tension Test and Flattening Test, Hardness Test, or Bend Test
For material heat treated in a batch-type furnace, tests shall be made on 5% of the pipe from each treated lot. For small lots, at least one pipe shall be tested.
For material heat treated by the continuous process, tests shall be made on a sufficient number of pipe to constitute 5% of the lot, but in no case less than 2 pipe.
Notes for Bend Test
For pipe whose diameter exceeds NPS 25 and whose diameter to wall thickness ratio is 7.0 or less shall be subjected to the bend test instead of the flattening test.
Other pipe whose diameter equals or exceeds NPS 10 may be given the bend test in place of the flattening test subject to the approval of the purchaser.
The bend test specimens shall be bent at room temperature through 180 without cracking on the outside of the bent portion.
Advantages of P91
SA 335 P91 or SA 213 T91 is the ultimate Ferrite Alloy steel that meets the extensive condition. Normally, the materials are used in many numbers of successful power plant service. Metal is also called as the 9 Cr 1 Mo steel with more composition. T22 or P22 grade is its predecessor but the Grade 91 mainly exhibits with the higher strength of temperature in the range of about 600 °C. Oxidation temperature mainly limits to higher features so it also effectively allows power plant designers to extensively engineer the components. In fact, it also effectively allows power plant designers for easily engineering the components with superheater coils, steam piping and headers as it mainly has less thickness. The metal also contributes higher thermal fatigue life that is ten times stronger when compared to other metals in much excellence. It also effectively allows to increase operating temperature at the higher level and increased efficiency at the power plant.
Normally, Alloy steel is not tolerant based on variations in the microstructure when compared to the P22 grade and other grades. Alloy steel is available in the difference that mainly contains the amount of carbon and iron. These are like the carbon steel along with it has other elements. Elements used in the Alloy steel mainly add manganese, silicon, chromium, vanadium, boron, and nickel. With more number of value composition about elements that are presented based on different ranges with more properties in the alloy steel. Normally, usage or application of alloy steel is to acquire the well-determined physical properties of the steel. The alloy steel falls into 2 types that include low alloy steels and high alloy steels. The Alloy steel is considered as the high alloy properties with the amount of the included elements belongs to the level of 8%. When these elements are combined with the range that is perforated in the below 8% value then it is called as low alloy steel. Low alloy steel is only used in most of the factories.
Alloy Steel P91 is manufactured based on precision and strict industry standard that mainly follows the heat treatment requirements. It is also reported that the failures of base materials are completely based on the different stages of usage. Alloy Steel P91 mainly used for different application with the extensive precision manufactured that are also complete reinstate with the microstructure to the high excellence. Alloy Steel P91 has properties much lower when compared to the predecessor P22. The effect of variation based on treatment on properties would be quite easier to analyze but it is not in the suitable for P91. Fabrication with construction phase mainly affects microstructure with reversed by precise heat treatment. In fact, it also brings microstructure back to original size and shape to the excellence. Alloy Steel P91 is decided based on tanker linings with complete prevalent consumption protection with high return quality and it also efficiently adds structures. With the variety of welding consumables along other national specifications enabled, P91 materials are widely used across for different aspects.
ASTM A335 P91 Pipe Stocks
The alloying elements in ASTM A335 P91 Alloy steel Seamless Pipes tend to make either compounds or carbides or solid solutions.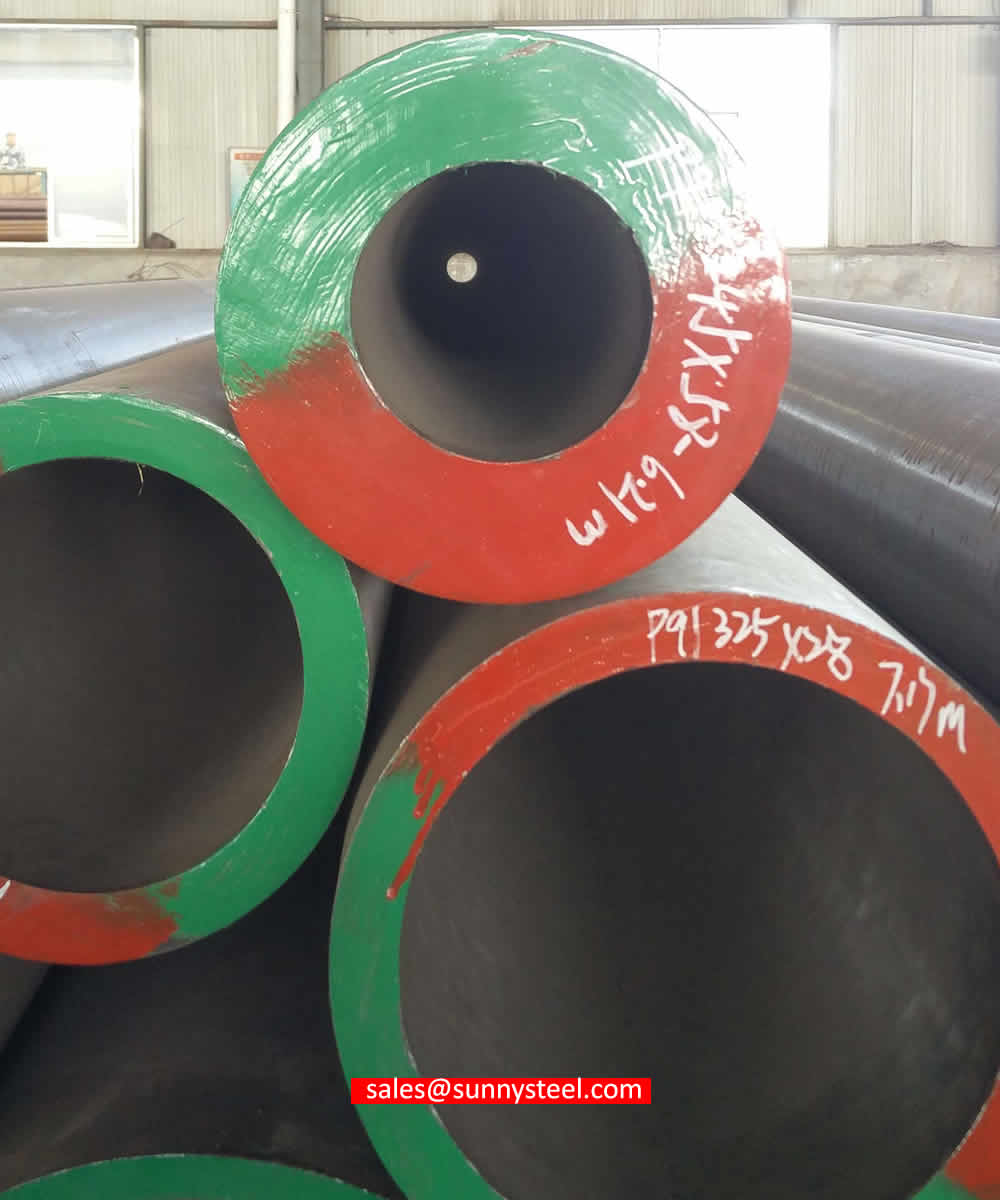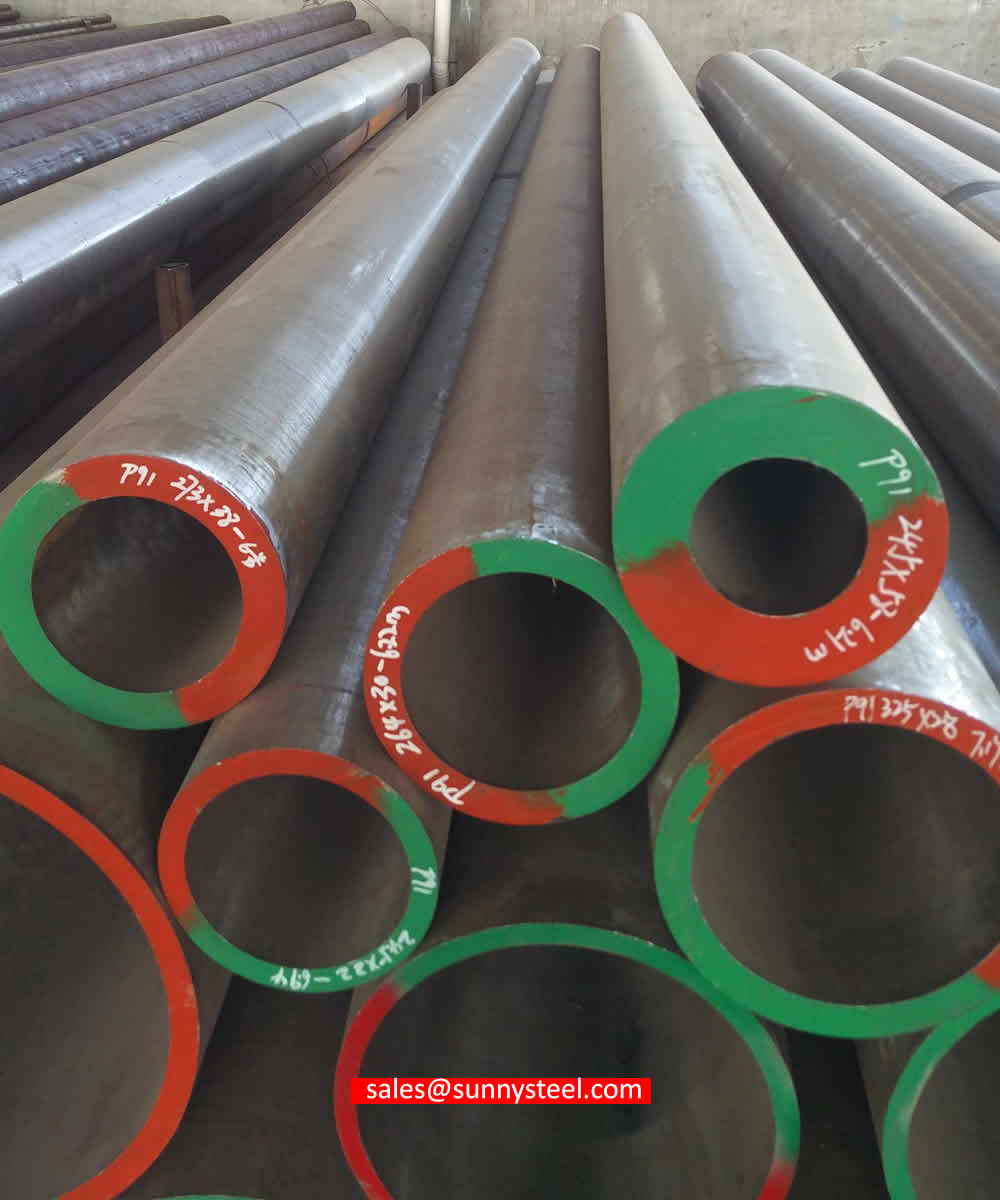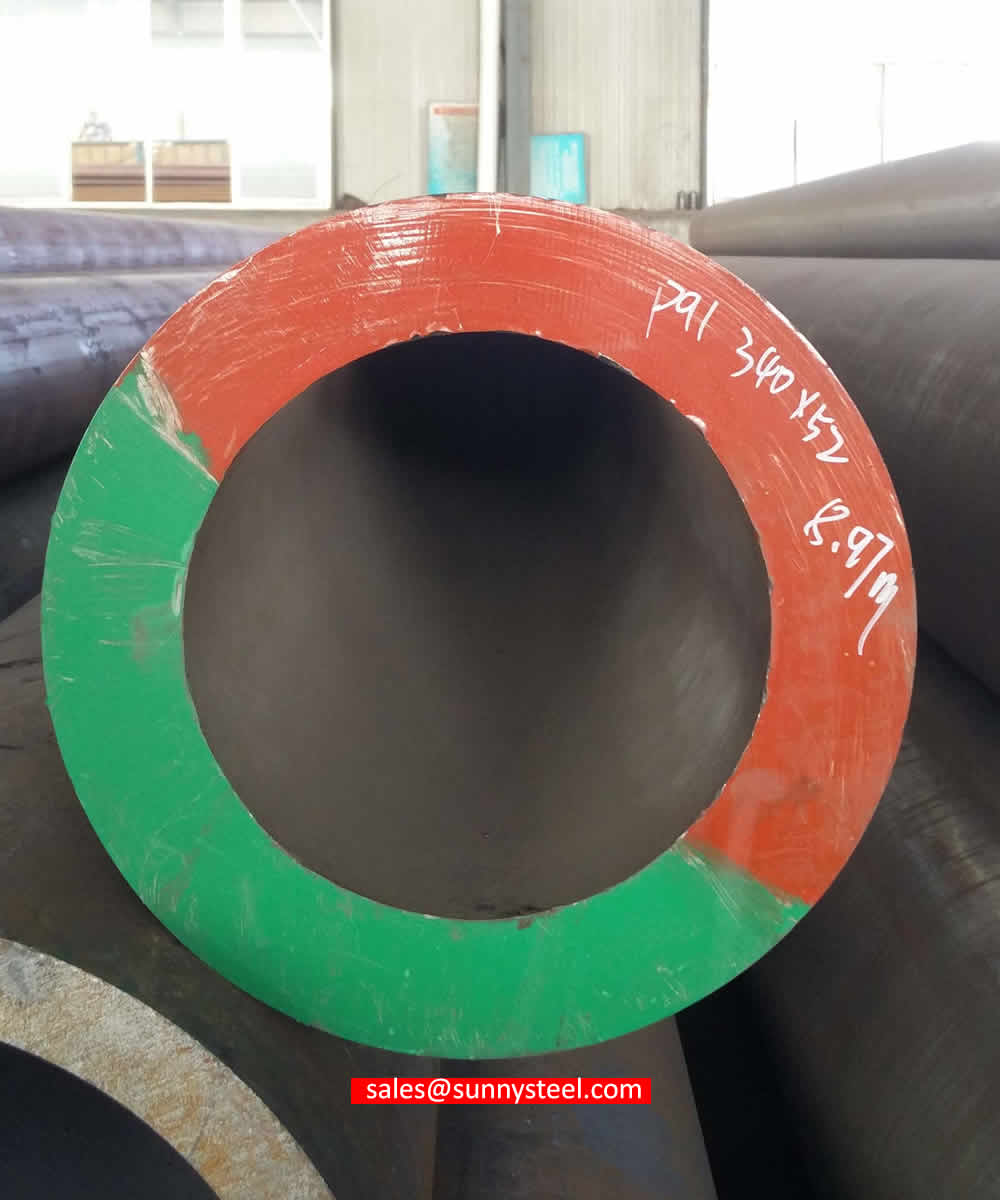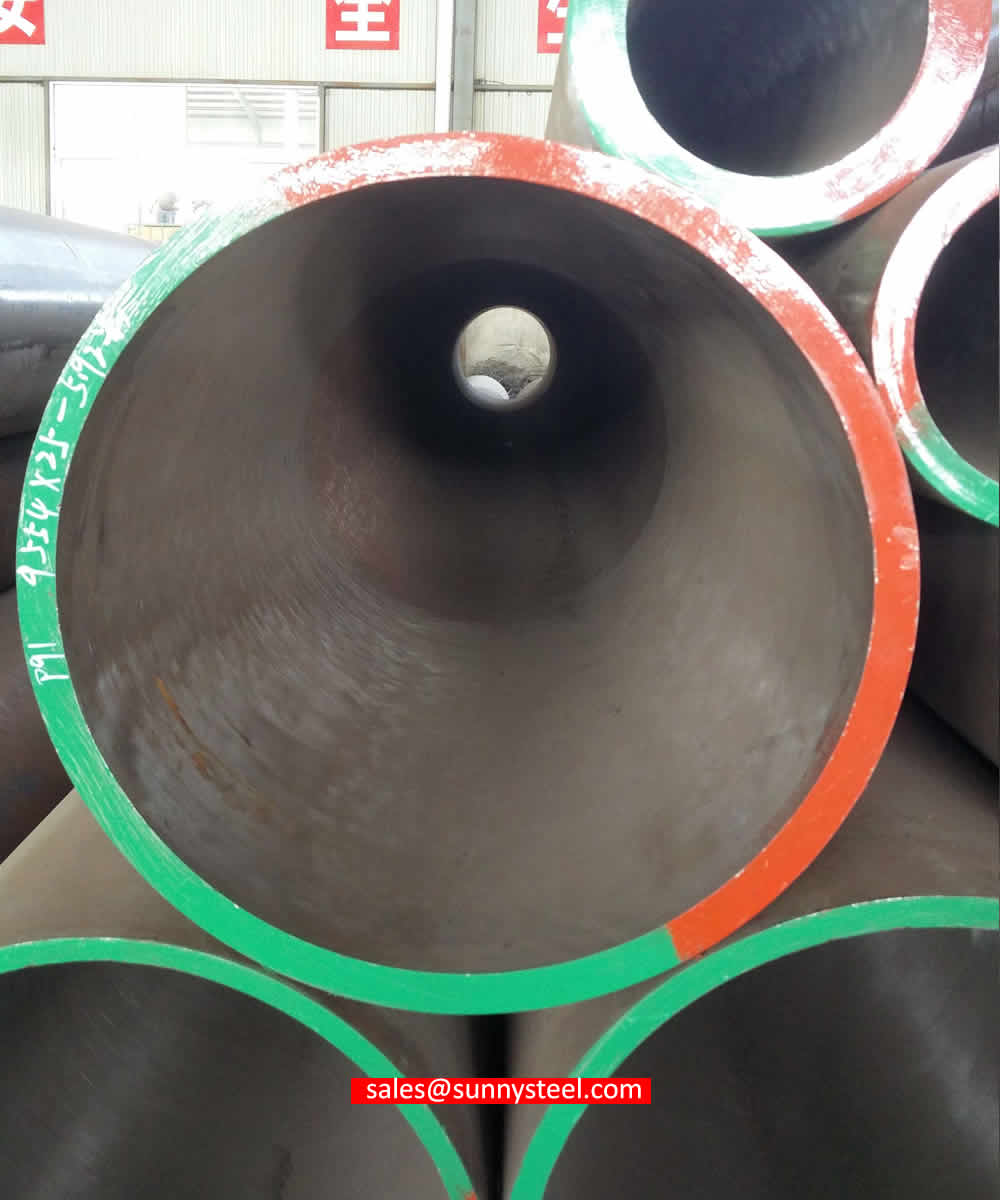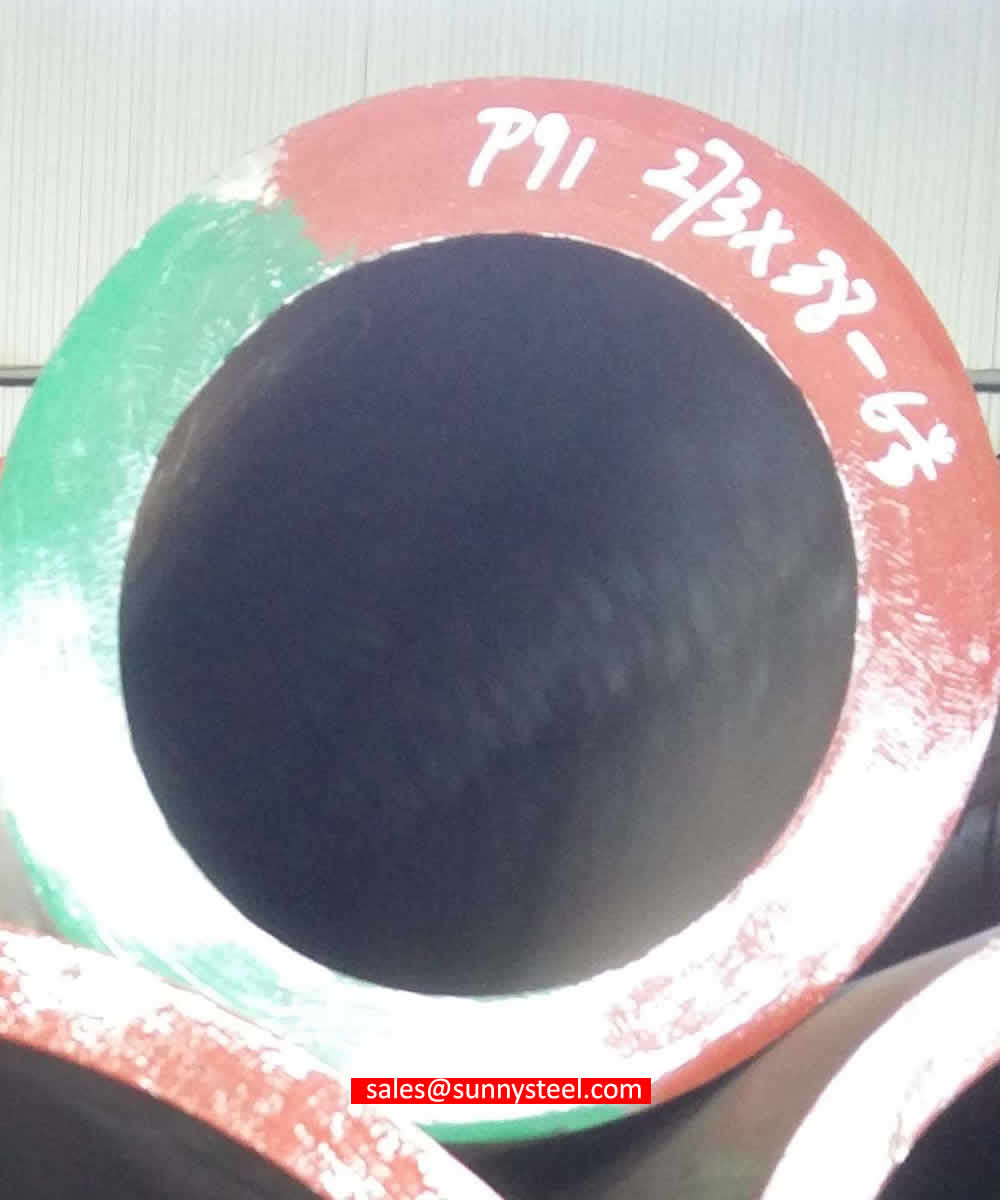 ASTM A335 P91 Type1 VS Type2
ASTM A335 P91 Type 1 & Type 2 have subtle differences mainly in elements Mn, S, Si, N, Sn and Sb content, and Type 2 has stricter requirements on element content than Type 1. P91 type 1 and 2 shall have a hardness within the range of 190 to 250 [HBW] or 196 to 265 [HV] or 91 HRBW to 25 HRC.
Grade

UNS Designation

Chemical Composition %

P91 Type 1

K91560

C

Mn

P

S

Si

Ni

Cr

Mo

0.08-0.12

0.30-0.60

0.020

0.010

0.20-0.50

0.40 max

8.00-9.50
0.85-1.05

V

N

Al

Cb

Ti

Zr

Sn

Sb

0.18-0.25

0.030-0.070

0.02 max

0.06-010

0.01 max

0.01 max

_
_

P91 Type 2

K91560

C

Mn

P

S

Si

Ni

Cr

Mo

0.08-0.12

0.30-0.50

0.020

0.005

0.20-0.40

0.40 max

8.00-9.50
0.85-1.05

V

N

Al

Cb

Ti

Zr

Sn

Sb

0.18-0.25

0.035-0.070

0.02 max

0.06-0.10

0.01 max

0.01 max

0.010 max
0.003 max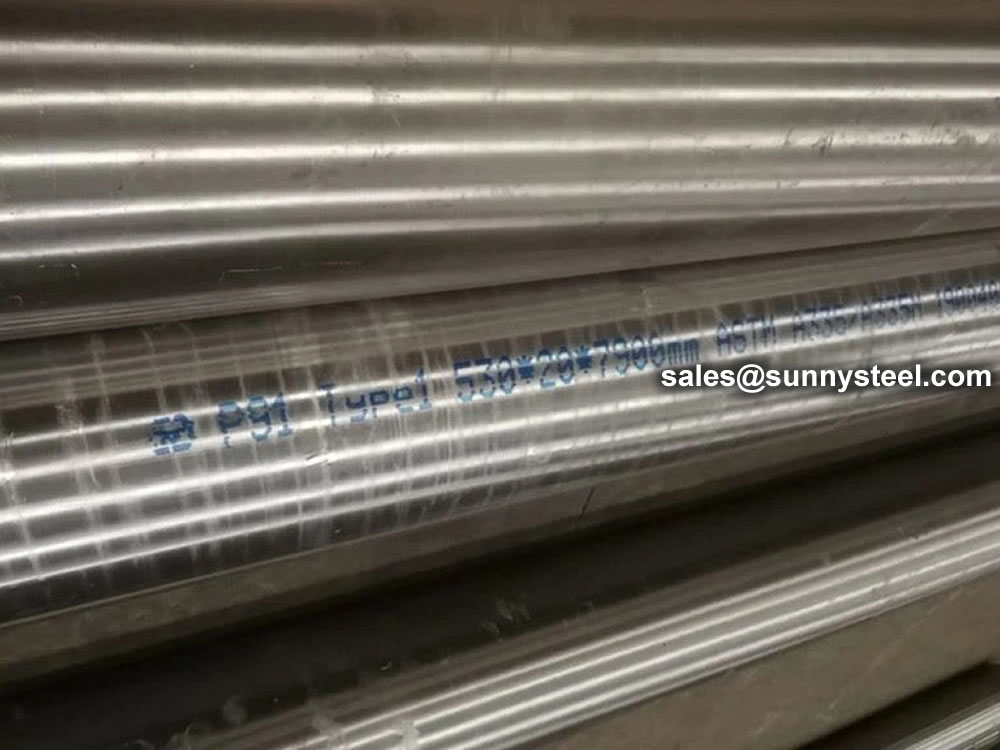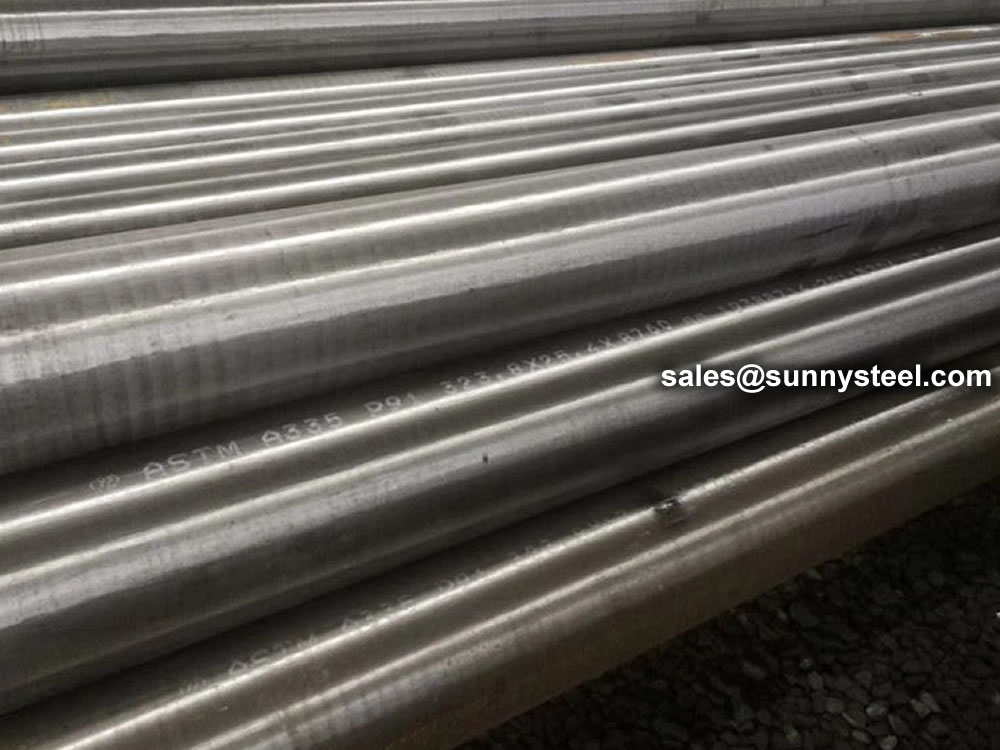 Related ASTM A335 P91 Pipe