ASTM A694/A694M
ASTM A694 Specification for Carbon and Alloy Steel Forgings for Pipe Flanges, Fittings, Valves, and Parts for High-Pressure Transmission Service
ASTM A694 is the standard specification for carbon and alloy steel forgings for pipe flanges, fittings, valves, and parts for high-pressure transmission service which are manufactured for use with high-strength transmission-service pipe. There are 9 steel grades specified which are all within Metals-Piping's manufacture & supply capability: ASTM A694 F42, F46, F48, F50, F52, F56, F60, F65, F70. All grades shall be furnished suitable for field welding and be free of welding-repair. The high-strength A694 flanges, fittings or valves are commonly seen in oil & gas wellhead systems, offshore drilling platforms, as well as long-distance high-pressure oil & gas transmission pipelines.
Scope
1.1 This specification covers forged or rolled steel pipe flanges, forged fittings, valves, and parts suitable for use with high-strength transmission-service pipe. Included are flanges, fittings, and similar parts ordered either to dimensions specified by the purchaser or to ASME or MSS dimensional standards referenced in Section 2.
1.2 Several grades of material, based on minimum yield strength requirements, are covered, as indicated in Table 1.
1.3 Supplementary Requirements are provided. Supplementary Requirement S1 is provided for use when purchaser approval is required for repair welding.
1.4 This specification is expressed in both inch-pound units and in SI units. However, unless the order specifies the applicable "M" specification designation (SI units), the material shall be furnished to inch-pound units.
1.5 The values stated in either SI units or inch-pound units are to be regarded separately as standard. Within the text, the SI units are shown in brackets. The values stated in each system are not exact equivalents; therefore, each system must be used independently of the other. Combining values from the two systems may result in nonconformance with the standard.
ASTM A694 F65 weld neck flanges, 16″ RTJ 600# SCH80, MSS SP 44.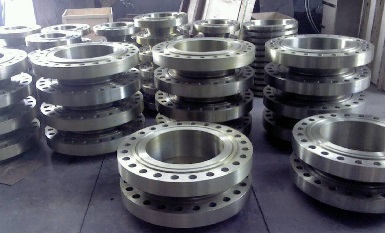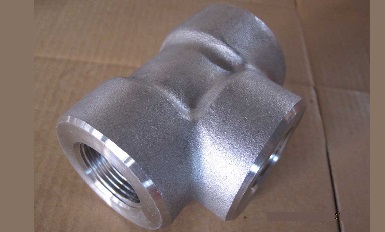 ASME B16.11 forged tee 3000# NPT, ASTM A694 F52, Galvanized.
Minimum yield strength of ASTM A694
| | | | |
| --- | --- | --- | --- |
| Grade | Yield Strength (0.2% offset),min, ksi [MPa] | Tensile Strength, min, ksi [MPa] | Elongation in 2 in, or 50 mm, min % |
| F42 | 42 [290] | 60 [415] | 20 |
| F46 | 46 [315] | 60 [415] | 20 |
| F48 | 48 [330] | 62 [420] | 20 |
| F50 | 50 [345] | 64 [440] | 20 |
| F52 | 52 [360] | 66 [455] | 20 |
| F56 | 56 [385] | 68 [470] | 20 |
| F60 | 60 [415] | 75 [515] | 20 |
| F65 | 65 [450] | 77 [530] | 20 |
| F70 | 70 [485] | 82 [565] | 18 |
Units 
The standard available in two units, foot-pound units and International Metric (SI) units. However, the material shall be supplied in feet-pound units unless the "metric" code (SI unit) is specified in the order.
Reference Standard
In addition to the reference standards listed in Specification A961, the following standards also apply to this specification.
ASTM Standards:
A53/A53M Specification for pipe, steel, black and hot-dipped, zinc-coated, welded and seamless
A106 Specification for Seamless Carbon Steel Pipe for High-Temperature Service
A381 Specification for Metal-Arc-Welded Steel Pipe for Use with High-Pressure Transmission Systems
A707/A 707M Specification for Forged Carbon and Alloy Steel Flanges for Low-Temperature Service
A788 Specification for Steel Forgings, General Requirements
A961 Specification for Common Requirements for Steel Flanges, Forged Fittings, Valves, and Parts for Piping Applications
ASME Standards:
ASME B 16.5 Steel Pipe Flanges and Flanged Fittings
ASME B 16.9 Steel Butt-Welding Fittings
ASME B 16.10 Face-to-Face and End-to-End Dimensions of Ferrous Valves
ASME B 16.11 Forged Steel Fittings, Socket Welding and Threaded
ASME B 16.28 Wrought Steel Butt-Welding Short Radius Elbows
ASME B 16.47 Large Diameter Steel Flanges
MSS Standards:
MSS SP-44 Standard for Steel Pipe Line Flange
MSS SP-75 Specification for High-Test Welding Fittings
MSS SP-95 Swage (d) Nipples and Bull Plugs
MSS SP-97 Integrally Reinforced Forged Branch Outlet Fittings
API Standard:
API 5L Specification for Line Pipe
General requirements
Materials provided in accordance with this specification shall comply with the requirements of Specification A961 and the additional requirements specified in the purchase order. If failure to comply with A961/A961M. it means material note comply with ASTM A694. And if this specification is inconsistent with the specification A 961, this specification shall be primary followed.
Manufacturing process
Melting Process
The steel material under A694 shall adopt one of the following smelting processes: open furnace, electric furnace or oxygen top-blown converter. Moreover, steel should be completely deoxidized.
As agreed by the buyer and manufacturer, the material shall be carbon steel, high strength low alloy steel or alloy steel. Further more, manufacturer shall report the chemical composition of the used material. All the produced products shall be adapted to welded on the pipes of ASTM A53, ASTM A106, ASTM A381, API 5L or the fittings of MSS SP-75.
Manufacturing Practice:
Forging materials include ingots or billets, billets, slabs or forged, rolled rods, and cut to the specified length according to the appropriate process.
Hot working shall be sufficient to develop a wrought structure throughout the part.
Flanges shall not be machined directly from plate nor from solid bar stock.
Heat treatment
All forgings should be heat treated. The heat treatment of carbon steel and high-strength low-alloy steel should be normalized, normalized or tempered or quenched and tempered. The heat treatment of alloy steel is aging treatment with quenching and precipitation or aging treatment with quenching and precipitation.
Tempering temperature shall be at least 1000 ℉ [540 ℃], precipitation heat treatment of alloy steel shall be in range from 1000 to 1225 ℉ [540 ℃ to 665 ℃].
Chemical composition
The smelting analysis shall be carried out in accordance with the provisions of Specification A961, and the results of the analysis shall comply with the chemical composition requirements given as below.
Chemical Requirements of ASTM A694
| | |
| --- | --- |
| Element | Composition, % Heat Analysis |
| Carbon, max | 0.3 |
| Manganese, max | 1.6 |
| Phosphorus, max | 0.025 |
| Sulfur, max | 0.025 |
| Silicon | 0.15-0.35 |
| Copper | ​ |
| Nickel | ​ |
| Chromium | ​ |
| Molybdenum | ​ |
| Vanadium | ​ |
| Columbium (Niobium) | ​ |
Note:
All elements listed in Table 2 shall be reported. Where no composition limit is listed, values are to be reported but no limits apply except as covered in 6.3. (Alloy steel shall conform to Grade L5 of A707/707M)
Tensile Strength
The mechanical properties are tested in accordance with the requirements of Specification A 961. The tensile mechanical properties of the materials are to comply with the requirements of Table 1.
Process quality, precision and appearance
Forgings shall be free of the detrimental defects described in Specification A961.
Repair by Welding
Repair by welding of injurious defects-repair of injurious defects shall be comply with A961/A.961M
Deposited weld metal shall be capable of meeting all mechanical properties upon heat treatment.
All forgings to be repaired by welding shall be repair welded prior to heat treatment.
Rejection and rehearing
The purchaser shall comply with the requirements of Specification A961/A961M.