A P265GH Seamless Steel Tube: Unveiling Strength and Versatility
In the realm of industrial applications, where durability, reliability, and high-performance are non-negotiable, the P265GH seamless steel tube stands as a remarkable engineering solution.
This seamless tube, known for its exceptional properties, finds its place in various industries due to its strength, versatility, and ability to withstand challenging environments. In this article, we delve into the world of the P265GH seamless steel tube, exploring its features, applications, and advantages.
What is the equivalent of P265GH steel?
Equivalent grade of this type in ASME/ASTM is A 516 grade 60. In DIN standard, the corresponding material is referred as 1.0425 type steel.
What size is P265GH pipe?
The P265gh Nf EN 10216-2 pipes can be made seamless or welded. The seamless tubes can range from 4mm to 152mm in outer diameter and the welded pipes can range up to 1219.2mm in outer diameters. The wall thicknesses of the pipes vary from 0.5mm to 20mm and above with schedules ranging from sch5 through XXS and heavier.
What material group is P265GH?
P265GH belongs to material group 1.0425 according to the EN 10020 standard.
Is P265GH carbon steel?
Yes, P265GH is a non-alloy carbon steel used for high-temperature pressure vessel applications.
What is the difference between P235GH and P265GH?
P235GH and P265GH are both non-alloy steels used for high-temperature pressure vessel applications. The main difference between them lies in their minimum yield strength and mechanical properties. P265GH has a higher minimum yield strength and is generally considered to be a higher-grade steel compared to P235GH. This difference in strength makes P265GH more suitable for applications requiring higher pressure resistance.
What is the yield strength of P265GH?
The minimum yield strength of P265GH is approximately 265 megapascals (MPa), as indicated by the "265" in its designation. This yield strength value is a measure of the amount of stress the material can withstand without permanent deformation under normal conditions.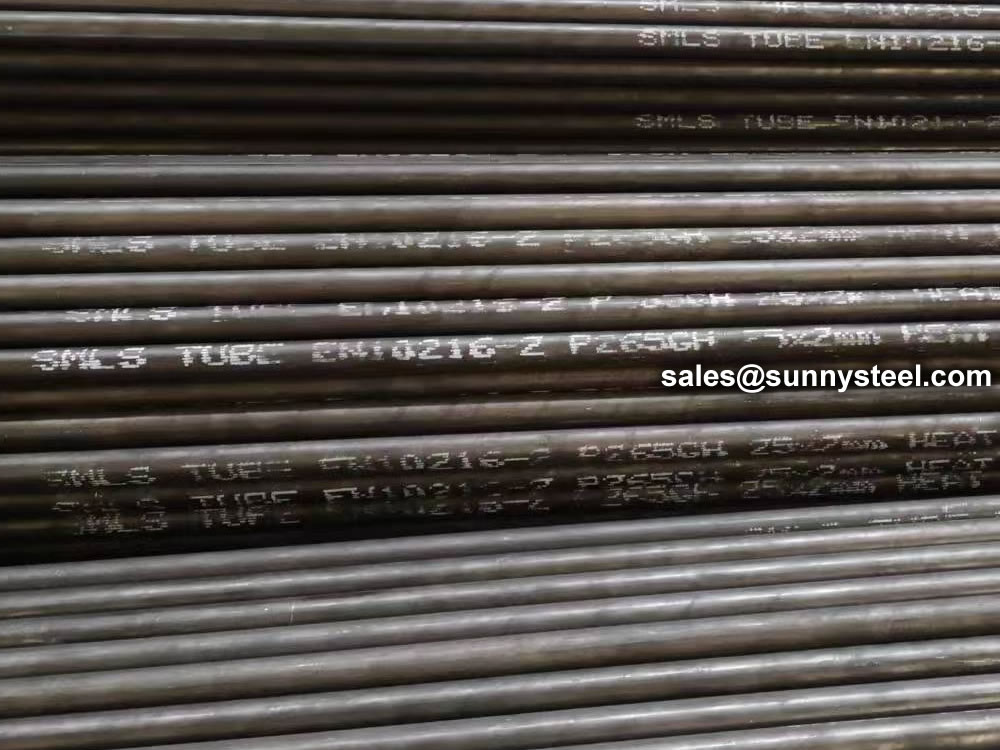 What is the chemical composition of P265GH?
The chemical composition of P265GH steel typically includes elements such as:
Carbon (C): ≤ 0.20%
Manganese (Mn): 0.80% - 1.40%
Phosphorus (P): ≤ 0.025%
Sulfur (S): ≤ 0.015%
Silicon (Si): ≤ 0.40%
Chromium (Cr): ≤ 0.30%
Nickel (Ni): ≤ 0.30%
Copper (Cu): ≤ 0.30%
Molybdenum (Mo): ≤ 0.08%
Aluminum (Al): ≤ 0.020%
Nitrogen (N): ≤ 0.012%
Vanadium (V): ≤ 0.02%
Niobium (Nb): ≤ 0.012%
Titanium (Ti): ≤ 0.03%
Cobalt (Co): ≤ 0.02%
Boron (B): ≤ 0.005%
Exploring the P265GH Seamless Steel Tube
Understanding the Basics
The P265GH designation refers to a specific type of steel grade. The letter P indicates that it's a pressure vessel steel, while 265 represents the minimum yield strength in MPa (megapascals). This steel is primarily used in the manufacturing of seamless tubes for high-temperature and high-pressure applications.
Features and Properties
The P265GH seamless steel tube is celebrated for its remarkable features and properties:
High-Temperature Resistance: The tube can withstand elevated temperatures without losing its structural integrity, making it suitable for applications involving heat and pressure.

Pressure Resistance: Designed to handle high internal pressures, this tube is commonly used in industries where containment of pressurized fluids or gases is crucial.

Corrosion Resistance: Its composition offers resistance against corrosion, ensuring the tube's longevity even in corrosive environments.

Versatility: The tube's adaptability to various industrial sectors, from energy generation to manufacturing, showcases its versatile nature.
Applications of P265GH Seamless Steel Tubes
Power Generation
In the power generation sector, P265GH seamless steel tubes are utilized in boilers and heat exchangers. These tubes contribute to the efficient generation of steam, which in turn drives turbines to produce electricity.
Petrochemical Industry
The petrochemical industry benefits from the robustness of P265GH tubes. They find applications in processing and transporting fluids and gases under high pressures and temperatures.
Manufacturing
In the manufacturing realm, these tubes are employed for processes requiring controlled temperatures, such as heat treatment and industrial furnaces.
Construction
In the construction sector, P265GH seamless steel tubes are used for structural applications where strength and reliability are paramount.
Advantages of P265GH Seamless Steel Tubes
High Strength
The P265GH grade offers impressive yield and tensile strength, ensuring the tube's ability to withstand mechanical stress.
Reliable Performance
These tubes maintain their structural integrity even in extreme conditions, making them highly reliable in critical applications.
Enhanced Safety
In industries dealing with high pressures and temperatures, the use of P265GH seamless steel tubes contributes to overall safety and operational stability.
Conclusion
The P265GH seamless steel tube emerges as a crucial component in industries demanding strength, resilience, and performance. Its remarkable properties, coupled with its versatile applications, make it an indispensable part of modern engineering. As industries continue to evolve, the P265GH seamless steel tube remains a testament to human ingenuity, contributing to safer and more efficient operations in diverse sectors.