---
Applications
Silicon carbide (SiC) ceramics have a set of unique physical-chemical properties, such as high hardness and mechanical stability at high temperatures, excellent thermal conductivity and low coefficient of thermal expansion, high resistance to corrosion and oxidation, wide bandgap, and others.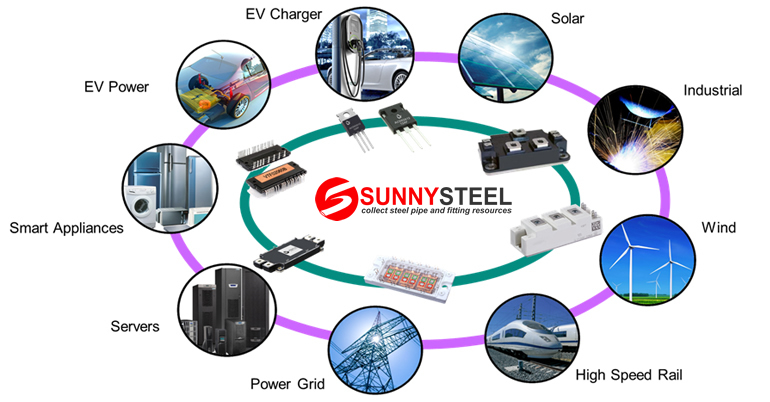 Silicon carbide is frequently used in semiconductor and coating industries.
SiC tubes are used to serve as components in industrial furnaces and thermal couple protectors.

It can be used in high temperature applications.
Armor
Sintered Silicon Carbide has demonstrated an excellent performance record as ceramic material in composite armor protection systems. The properties of sintered silicon carbide, such as its high hardness, compressive strength and elastic modulus, provide superior ballistic capability when confronted with high-velocity projectiles. The low specific density of the material makes it suitable in applications where weight requirements are critical.
Heat Exchanger Tubes
Sintered Silicon Carbide tubes are used in shell and tube heat exchangers in the chemical process industry. The tubes used in these applications are often over 4 m in length.
Mechanical Seals
Pumps must operate in an infinite variety of demanding environments. Sintered Silicon Carbide offers a high performance seal face material that has proven successful in such diverse pumping applications as chemical processing, refining, mining and pulp and paper processing. The material provides superior corrosion and abrasion resistance; shock resistance; and low sliding friction against a wide range of mating materials.
Bearings
For state-of-the-art magnetically driven pumps, sintered silicon carbide is particularly suited for thrust and journal bearing components. Excellent corrosion resistance provides optimum performance in many chemical environments. High thermal conductivity minimizes the likelihood of failure due to thermal shock, and its specific strength makes it safe to use at high rotational speeds. Bearing components are usually produced as tight tolerance precision ground parts.
Automotive Components and Seal Faces
Due to their greater resistance to both wear and thermal shock, sintered silicon carbide seal faces for automotive water pumps are replacing seal faces made of materials such as aluminium oxide. In many cases the material has proven more suitable in meeting the performance demands of U.S. and European vehicles – i.e. lasting the lifetime of the vehicle without leaking. These components are manufactured by conventional high volume pressing and injection moulding methods to meet the economic constraints of the application.
Blast and Atomization Nozzles
Sintered Silicon Carbide is probably the most popular ceramic alternative to tungsten carbide for blast nozzle applications. Typically providing long life (50% over WC) due to excellent wear and corrosion resistance. The low wear rate maintains the internal nozzle geometry and provides maximum blasting effectiveness, minimum compressor requirements and reduced downtime due to replacement. Sintered silicon carbide is also about one fifth the weight of Tungsten Carbide, so the blasting operation is also easier for the operator. Nozzles are often produced as semi finished (non-ground) components thereby reducing costs.
Process Industry Valve Applications
The outstanding corrosion resistance of sintered silicon carbide, particularly in acids, makes it an ideal candidate for valve and valve trim applications. Typical demanding applications such as slurry flashing, HF acid handling and rare earth processing use sintered silicon carbide valve components.
Paper Industry Applications
The excellent corrosion and wear resistance of sintered silicon carbide provides hard surfaces that can be machined to smooth, highly polished finishes. These finishes offer low coefficients of friction and compatibility with forming fabrics. Tiles, inserts and palm guides are available in finished and semi-finished forms.
Centrifuge Tiles and Wear Parts
Often used in applications where tungsten carbide and alumina fail to provide optimum lifetime performance.
Semiconductor Production
The benefit of using silicon carbide for semiconductor components includes; the thermal expansion match to silicon, the resistance to wear and chemical corrosion which leads to reduced maintenance and component recycling. The material is well suited as a structural material for low mass silicon wafer handling components and rigid, dimensionally stable platforms due to its lightness in weight and high elastic modulus. Typical applications include vacuum chucks, chemical mechanical polishing blocks, wafer carriers, and thermocouple protection tubes.
Correct use of silicon carbide ceramics
Silicon carbide ceramics are widely used not only in industry, but also in other fields. So, what should be paid attention to when using silicon carbide ceramics?
The hardness of silicon carbide ceramics is very strong, although it does not look as eye-catching as other ceramics, but the use of ornamental ceramics is incomparable. In the process of use, as long as you follow the instructions, there is no need to pay special attention to. Just keep it clean.
If the method used is not correct, the silicon carbide ceramics will be damaged. We can extend its service life by regular maintenance.