Silicon Carbide Tube
We produce sintered SiC tubes, reaction bonded SiC tubes and recrystallized SiC tubes.
Download PDF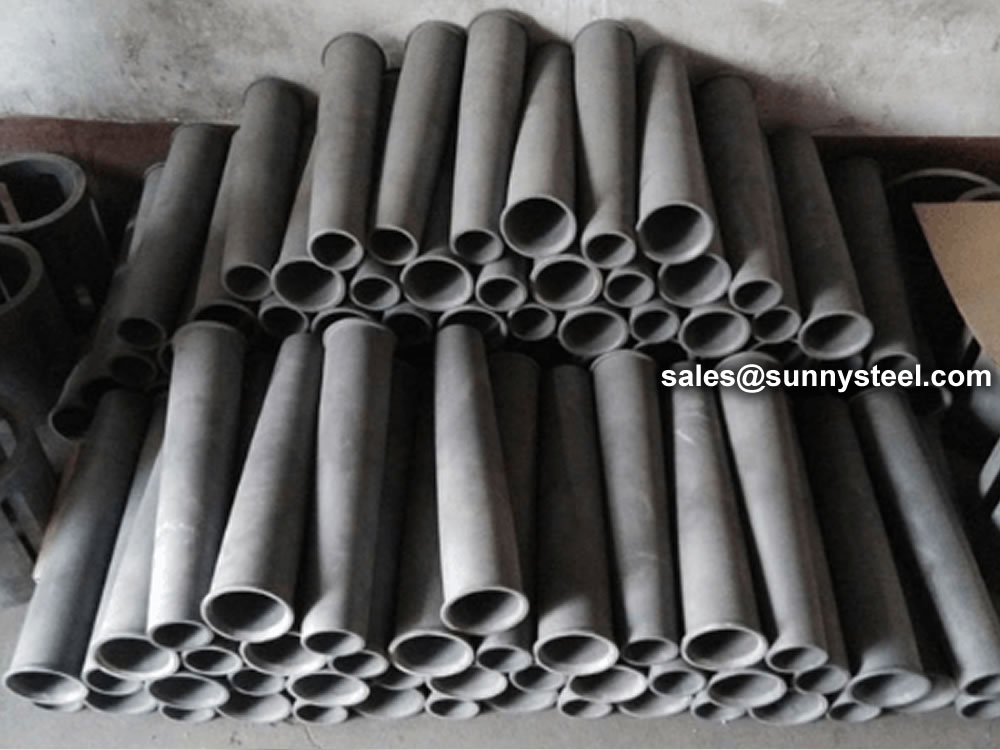 Our recrystallized SiC products have high purity, while our reaction bonded and sintered silicon carbide balls have high mechanical strength. Our silicon carbide tubes possess good wearability, a low thermal expansion coefficient, extreme corrosion resistance, high hardness and self-lubricating properties. For further information on our silicon carbide and how this can be used for your product, contact us today.
Silicon carbide (SiC) is a lightweight ceramic material with high strength properties comparable to diamond. It has excellent thermal conductivity, low thermal expansion, and is resistant to acid corrosion. Silicon carbide is an excellent ceramic material suitable for applications requiring good corrosion resistance and wear resistance.
Silicon carbide is formed in two ways, reaction bonding and sintering. Each forming method greatly affects the end microstructure.
Reaction bonded SiC is made by infiltrating compacts made of mixtures of SiC and carbon with liquid silicon. The silicon reacts with the carbon forming more SiC which bonds the initial SiC particles.
Sintered SiC is produced from pure SiC powder with non-oxide sintering aids. Conventional ceramic forming processes are used and the material is sintered in an inert atmosphere at temperatures up to 2000ºC or higher.
Both forms of silicon carbide (SiC) are highly wear resistant with good mechanical properties, including high temperature strength and thermal shock resistance. Our engineers are always available to best advise you on the strengths and weaknesses of each ceramic for your particular needs.
The crystal structure of the SiC ceramic wear-resistant pipe is similar to that of the diamond tetrahedral structure. It is a compound composed mainly of covalent bonds. Its hardness is high (Mohs 9.3), its performance is stable, and its physical properties are similar to diamond. It is also known as emery. Black silicon carbide crystal Hardness is the second-order material for diamonds. It is mainly used for making abrasives and grinding wheels, and partly for the production of silicon carbide ceramics.
Four application fields of silicon carbide furnace tube
Silicon carbide furnace tubes mainly have four application areas: functional ceramics, advanced refractories, abrasives and metallurgical raw materials. However, the application of nano-silicon carbide powder with extremely high technical content cannot form economies of scale in a short period of time. Silicon carbide raw materials can already be supplied in large quantities and cannot be said to be high-tech products. So, let's take a look at the main features of silicon carbide furnace tubes.
As an abrasive, it can be used for grinding wheels such as whetstone, grinding heads, and sand tiles.
As metallurgical deoxidizer and high temperature resistant material.
It is a high-purity single crystal and can be used for the manufacture of semiconductors and the manufacture of silicon carbide fibers.
Main uses of silicon carbide furnace tubes: engineering processing materials for solar power generation industry, semiconductor industry, piezoelectric crystal industry, and wire cutting of 3-12 inch monocrystalline silicon, polycrystalline silicon, potassium arsenide, quartz crystal, etc.
Silicon carbide furnace tubes can be used in lightning rods, circuit components, high temperature applications, UV light detectors, materials of construction, astronomy, disc brakes, clutches, diesel particulate filters, filament pyrometers, ceramic membranes, cutting tools, heating parts, nuclear fuel, Gems, Steel, Armor, Catalyst
Folding Abrasives
Mainly used for polishing and polishing of grinding wheel, sandpaper, abrasive belt, oil shale, polishing block, polishing head, polishing paste, monocrystalline silicon, polycrystalline silicon in photovoltaic products and piezoelectric crystals in the electronics industry.
Folding "three resistant" material
Using silicon carbide with corrosion resistance, high temperature resistance, high strength, good thermal conductivity, impact resistance and other characteristics, silicon carbide can be used for various smelting furnace linings, high temperature furnace parts, silicon carbide plates, furnace linings, supports, Russian fuel boiler, silicon carbide crucible, etc.
Foldingnon-ferrous metal
Silicon carbide furnace tube has high temperature resistance and high strength, such as hard pot distillation furnace, rectification tower tray, aluminum electrolytic cell, copper furnace lining, electric arc furnace for zinc powder furnace, thermocouple protection tube, etc. Good thermal conductivity, resistance to Impact, used as high temperature indirect heating material.
Folding steel
Using the characteristics of corrosion resistance, thermal shock wear resistance and good thermal conductivity of silicon carbide furnace tubes, it is used for the lining of large blast furnaces to improve the service life.
Metallurgical beneficiation
The hardness of silicon carbide is second only to that of diamond, and its wear resistance is cast iron. With strong wear resistance, it is an ideal material for wear-resistant pipelines, impellers, pump rooms, cyclones, and pipelines. Def with 5–20 times the life of rubber is also one of the ideal materials for flight lines.
Folding building materials ceramic grinding wheel industry
Using its characteristics of thermal conductivity, heat radiation, high thermal strength, and can improve the filling capacity and product quality of the kiln, shorten the production cycle, the manufacture of thin-plate kiln furniture can not only reduce the capacity of the kiln furniture, it is an ideal indirect material for ceramic enamel sintering.