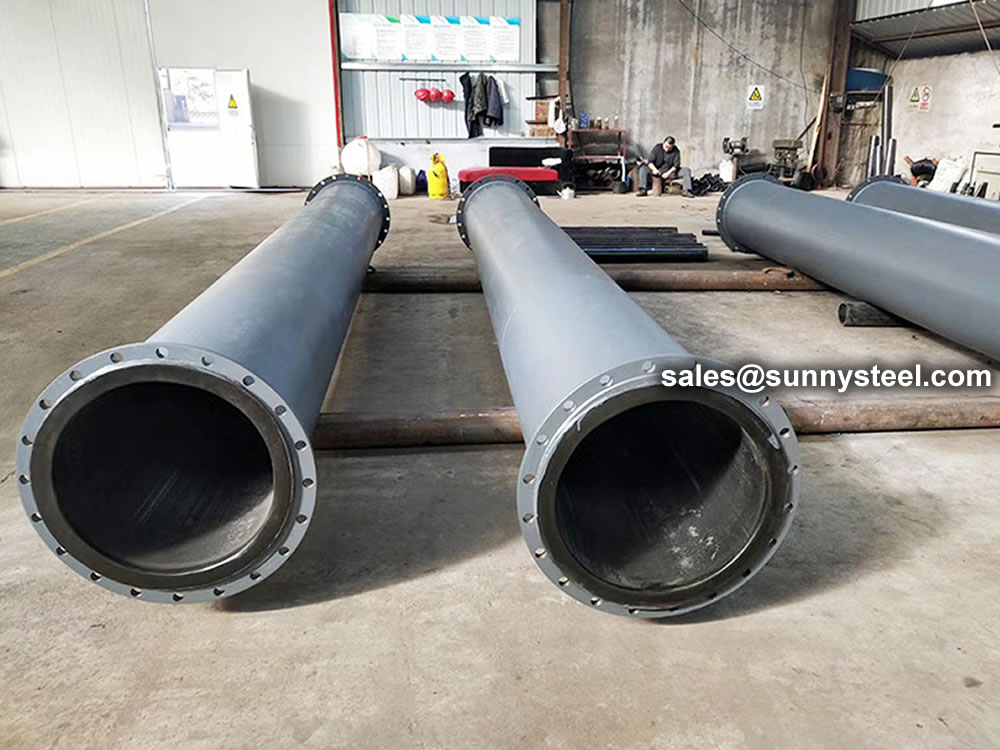 UHMWPE Mining Pipe
Mining tailings pipe is the tailings slurry discharged from non-ferrous metal ore beneficiation and ferrous metal ore beneficiation, which needs to be transported to the tailings inventory.
Download PDF
At present, the mainstream domestic transportation method is to use tailings pipe for transportation. Due to the considerable wear on the pipeline during the tailings transportation process, the ultra-high molecular weight polyethylene pipe is currently the most wear-resistant and cost-effective material of the tailings pipe.
The tailings pipeline is very easy to wear and damage during operation. Due to the long line and heavy weight, once it fails, it will pose a great threat to the safety of the tailings dam and cause environmental pollution. At present, the pipelines used for pressure transmission of tailings generally include ordinary steel pipes, seamless steel pipes, cast iron pipes, and composite pipes lined with wear-resistant materials.
What are the benefits of UHMWPE mining pipes?
a. High Wear Resistance
High wear resistance is 4 to 7 times that of Q235 steel pipe and 2.7 times that of wear-resistant steel 16Mn.The working life of UHMWPE pipes is more than 3 times that of wear-resistant steel pipe.
b. High Corrosion Resistance
UHMWPE material structure is saturated molecular group, with great chemical stability,good resistance of various corrosion mediums(acid,alkali,salt)and organic solvents.
c. High Impact Resistance
Which is 5 times that of HDPE pipe, 2 times that of PC pipe and 10 times that of PTFE pipes. which makes UHMWPE pipe can withstand great water hammer impact when starting up pump station.
d. High Pressure Resistance
which is 2 times to that of PE100 pipe and 2.5 times to that of PE80.UHMWPE pipe can withstand wide fluctuate of water pressure in the pipeline.
e. Environment Proctection
The manufacturing and processing of wear resistant UHMWPE pipe is low carbon,without wasted water,exhausted gas and waste residue,which saves 20% energy compare with the traditional steel pipes.
f. High Flexibility
With high toughness and elongation of no less than 350%,the UHMWPE pipe and the connection site will not crack when crust settling which maximally ensure to supply water normally.
g. Non-scaling
With toughness of 0.00022 and smooth pipe inner wall, it can efficiently avoid scaling without acid cleaning,which save a lot of maintenance cost.
h. Low energy consumption
Its coefficient of friction resistance is 0.009 while that of steel pipe is 0.013. With the same diameter, flow rate of UHMWPE pipe is large than steel pipe, and with the same flow rate,UHMWPE pipe can save 25% energy.