Stainless 316 tube shields are made of 316 stainless steel and can be customized to fit perfectly straight sections, curved sections and even finned and specialty tubes.
Stainless steel 316 (SS316) is an austenitic chromium-nickel stainless steel containing deliberate amount of molybdenum which increases general corrosion resistance and especially improves its pitting resistance to chloride ion solutions.
Grade 316 is the standard molybdenum-bearing grade, second in importance to 304 amongst the austenitic stainless steels. The molybdenum gives 316 better overall corrosion resistant properties than Grade 304, particularly higher resistance to pitting and crevice corrosion in chloride environments. 316L is best known among fabricators for being resistant to cracks after the weld process is completed. This makes 316L the preferred choice of fabricators who look to build metallic structures for industry applications.
SS316 Stainless Steel Boiler Tube Shields Anti Erosion Anticrack OEM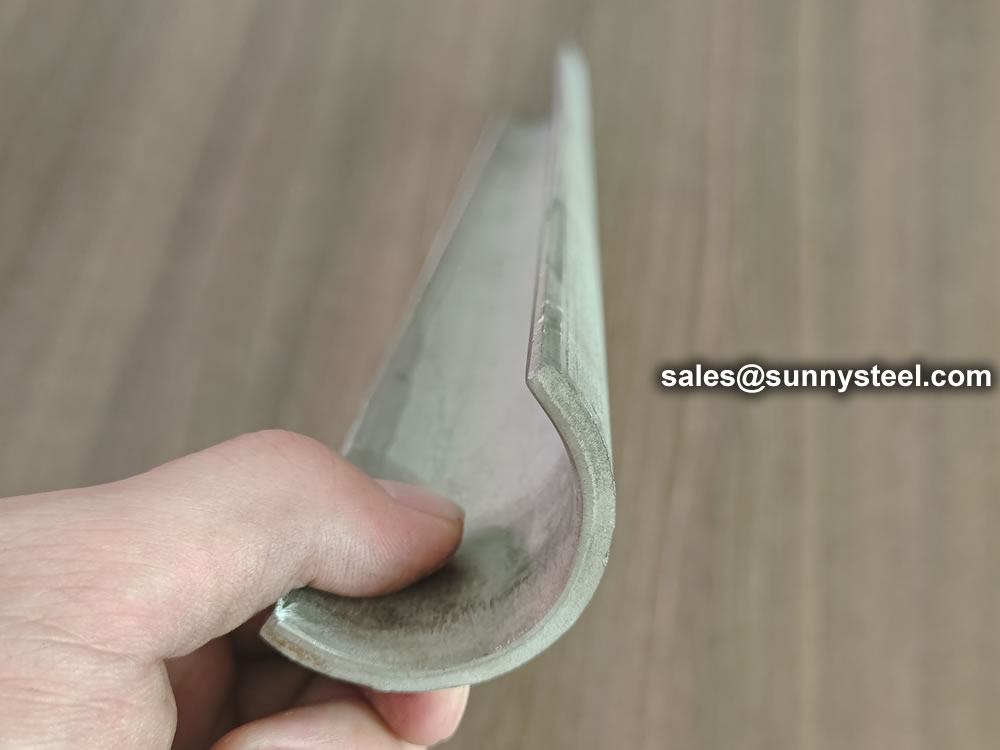 Stainless Steel Boiler Tube Shield is a common accessory in boilers, mainly used to protect boiler tubes from the effects of high temperature and high-pressure steam erosion, corrosion, and anti-cracking.
Our SS316 Stainless Steel Boiler Tube Shields are made of high-quality stainless steel materials, which can be customized according to customers' requirements.
Product Features:
High-quality stainless steel material
Anti-erosion and Anticrack
OEM Service Available
Easy to install
Product Application:
SS316 Stainless Steel Boiler Tube Shields are widely used in industrial boilers, power plants, and other high-temperature and high-pressure equipment.
Product Specifications:
Material: Stainless Steel 316 Size: Customized Surface Treatment: Polishing, Sandblasting, Electroplating, Powder Coating, Painting, etc.
Product Advantages:
High-quality material
Good corrosion resistance
Lightweight and durable
Customization services available
Easy to install and maintain.
AISI 316L Stainless Steel (UNS S31603)
AISI 316L stainless steel is a modified ultra-low carbon Cr-Ni-Mo series austenitic stainless steel based on AISI 316. It is recommended for parts that cannot be annealed after welding in certain corrosive environments. The addition of molybdenum can provide pitting resistance in phosphoric acid and acetic acid and dilute chloride solutions and corrosion resistance in sulfurous acid. SS316L is resistant to carbide precipitation in the temperature range of 425-870 °C (800-1600 °F), so normal welding can be performed without reducing corrosion resistance. However, when it is heated and kept in the sensitization temperature range for a long time during use, a large amount of carbides will precipitate, so it is usually recommended to use it below 425 °C (800 °F).
All these years have enhanced our capabilities and enabled us to produce all kinds of standard tube shield as well as custom snap rings as per customer's specifications. We have numerous combinations of sizes readily available in large number of stocks and can fabricate custom sizes according to customer's requirement.
Type 316L Stainless Steel Properties
Type 316L stainless steel density is 0.289 lb/in3 (8.0 g/cm3); melting point is 1375-1400 °C (2500-2550 °F); 0.2% yield strength is minimum 25 ksi (170 MPa) in annealed and hot finished condition, minimum 45 ksi (310 MPa) in annealed and cold finished condition; Minimum tensile strength is 70 ksi (485 MPa) in annealed and hot finished condition, ≥ 90 ksi (620 MPa) in annealed and cold finished condition; Maximum Brinell hardness is 217 HB, Maximum Rockwell hardness is 90 HRBW; Thermal conductivity is 12.1 W/m·K at 20 °C (68 °F), 16.3 W/m·K at 100 °C (212 °F).
Chemical Compostion of 316 stainless steel
The chemical composition of ASTM A240 Grade 316/316L Stainless Steel is outlined in the following table
Grade
Scope
C
Mn
Si
P
S
Cr
Mo
Ni
N
316
Min
-
-
-
0
-
16
2
10
-
Max
0.08
2
0.75
0.045
0.03
18
3
14
0.1
316L
Min
-
-
-
-
-
16
2
10
-
Max
0.03
2
0.75
0.045
0.03
18
3
14
0.1
316H
Min
0.04
0.04
0
-
-
16
2
10
-
max
0.1
0.1
0.75
0.045
0.03
18
3
14
-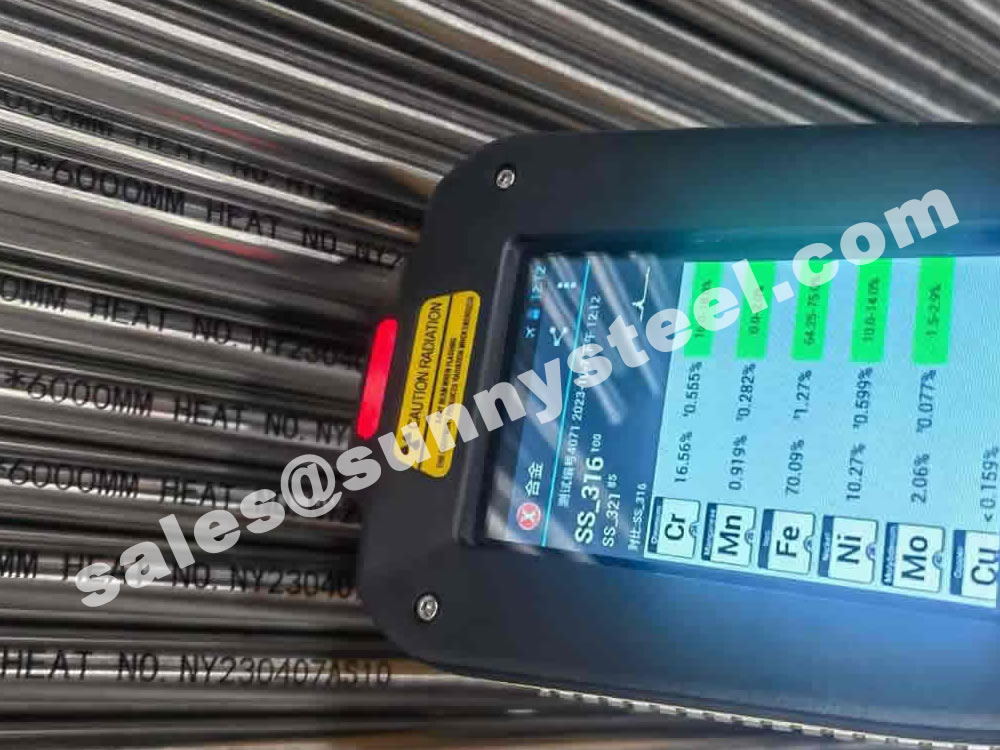 Mechanical and Physical Properties of 316 Stainless steel
Grade
Tensile Str
Yield Str
0.2% Proof
Elong
Hardness
(MPa) min
(MPa) min
(% in 50mm) min
Rockwell B (HR B) max
Brinell (HB) max
316
515
205
40
95
217
316L
485
170
40
95
217
316H
515
205
40
95
217
Possible alternative grades to 316 stainless steel
| | |
| --- | --- |
| Grade | Why it might be chosen instead of 316? |
| 316Ti | Better resistance to temperatures of around 600-900 °C is needed. |
| 316N | Higher strength than standard 316. |
| 317L | Higher resistance to chlorides than 316L, but with similar resistance to stress corrosion cracking. |
| 904L | Much higher resistance to chlorides at elevated temperatures, with good formability |
| 2205 | Much higher resistance to chlorides at elevated temperatures, and higher strength than 316 |
Stainless steel standards of 316/316L steel
| | |
| --- | --- |
| 316 | 316L |
| ASTM A240 | ASTM A240 |
| ASTM A666 | ASTM A666 |
| ASME SA240 | ASME SA240 |
| AMS 5524 | AMS 5507 |
The main difference between 316 and 316l stainless steel is in their carbon content. The 316L stainless steel compared to the 316 variant has a lower carbon content. Therefore, in terms of use for example, use related to corrosion, 316L is more capable than 316 stainless steel.