---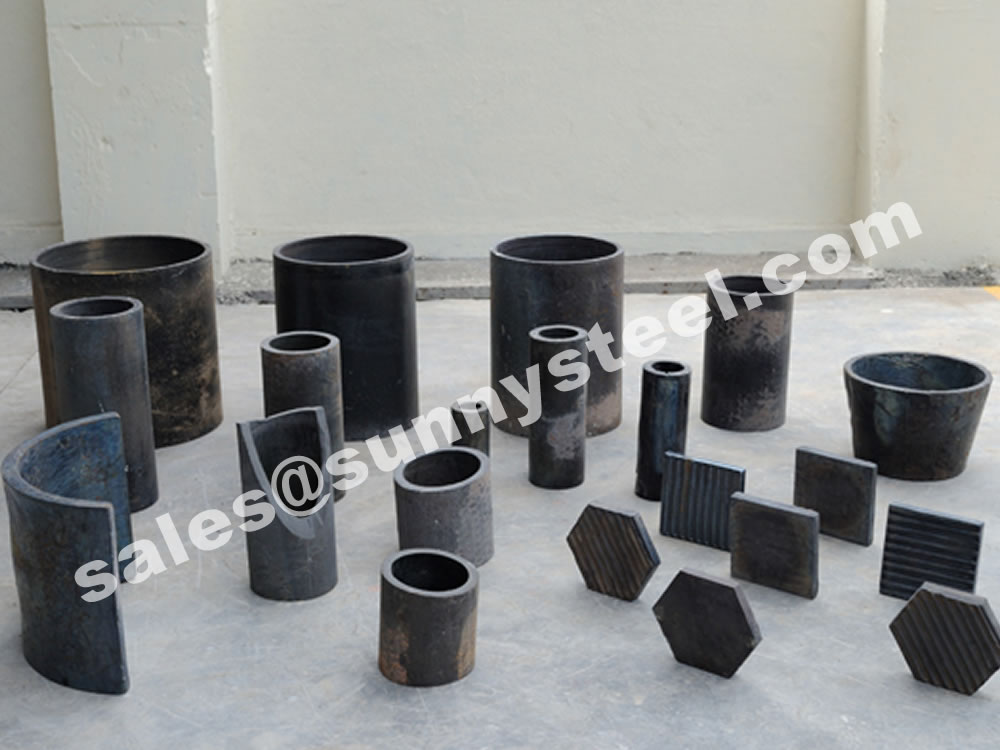 What is Cast basalt
Cast basalt is a mineral of exceptionally high abrasion resistance, unlimted resistance to moisture, high compressive strength and resistance to virtually all acids and alkalis and is completely corrosion free.
Cast basalt is produced by melting selected natural basalt broken into sizes of 20-50 mm in shaft furnaces at tempreatures around 1,300C, following by casting at which the metled basalt forms uniforms pherolithic crystals hence producing its typical physical propertics, in particular its exceptional hardness and wear-resitance.
Cast basalt reaches a value of hardness of 8( min ) on the Moh's hardness scale. for comparision : the highest value10is only attained by dimonds. by virtue of these properties,the silicate cast basalt provides outstanding protection against abrasion and scrubbing.
however, it is marked by asertain sensitivity ti impacts.Under Normal services conditions, cast basalt withstands tempratures up to approx.+ 350C or-40C. However Cast basalt sholud not be subjected ti temprature shocks.
Sizes : Cast basalt produces are manufactured as tiles, from pieces and segments. straight pipes are spun-cast, available for nominal bores of 32 to 600 mm with the wall thickness ranging from 20 to 30mm and a standard lenght of 500mm.samller nominal bores of straight pipes, pipe segment for radill of 40 to 3,000mm of vatrious angles, as well as special formpiece linings are pre dominately sand-cast. The standard wall-thickness is 20mm. depending on the respective quantity, steel moulds can also be used, the wall thickness in those cases usually being 30 to 40mm.
Cast basalt lined pipe can be mainly used as abrasive material and ash handling system like chute slip trough, funnel, silos, a variety dust catcher, revolving-flow machine, various scraper transport planes, all the feeder liner. Laying the ground all types of chemical plants, it can be for lining picking tank or storage of corrosive substance of the storage room.
According to customer requirements along with cast basalt production technology and we can offer various specifications and various shape to meet client's need.
Friction Resistance : As more material is passed over Cast Basalt it gets polished up thereby reducing friction further. Cast Basalt improves in service after getting polished. Wetting also improves its performance in practical applications.
Impact Resistance : Direct Impact Resistance at 90 degree is low like all other ceramics, but it can be increased with proper installation by reducing the angle of impact. Cast Basalt is the best wherever sliding abrasion exists. Moreover, external impact strength of composite basalt pipe (enclosed in M.S. Shell) is always more than that of bare Ni-hard Pipe.
Chemical Resistance : Cast Basalt is almost absolutely acid/alkali resistant (except Hydrofluoric Acid) and hence corrosion resistant.
Weight and Sizes : Basalt Tiles are available in regular shape square of 200 x 200 x 30 mm thick, weighing approx. 90 kg/sq m; whereas bends and pipes are lined using Basalt Cylinders of various standard sizes from 50NB upto 500NB.
Temperature : Cast Basalt withstands temperature up to 4500 oC.
Design Aspects
The bend radius should be minimum 3 times of nominal bore.

At discharge end of each bend, cast basalt lined straight pipe of length 5 to 12 times the nominal bore must be used.
Cast Basalt Wear Resistant Material
Refining basalt to a finely crystallised glass ceramic, SunnySteel's cast basalt wear resistant material provides an extremely durable, long-lasting lining for static plants bearing large volumes of abrasive and/or corrosive matter.
Supplied as both a pipe and tile lining solution, cast basalt is ideally suited for wet material handling applications with lower impacts, such as coal chutes, ash sluiceways, ash pipelines at power stations and hydraulic granulated slag or sand conveying. Basalt delivers high resistance to wear corrosion and temperatures up to approximately 400 °C.