What is basalt lined pipe?
Basalt lined pipe is a type of pipeline that is made of high-quality steel and lined with basalt, a volcanic rock with high mechanical strength and excellent resistance to abrasion, corrosion, and chemical attack. The basalt lining is achieved by spraying or casting a layer of molten basalt onto the inside surface of the steel pipe, creating a smooth and durable protective barrier that extends the life of the pipeline and reduces maintenance costs. Basalt lined pipes are commonly used in industries such as mining, power generation, cement, and chemical processing, where they need to transport abrasive and corrosive materials.
Basalt lined pipe is a type of pipe where the internal surface is lined with basalt. Basalt is a volcanic rock and has a very high abrasion and corrosion resistance, making it an ideal material for lining pipes carrying abrasive or corrosive fluids or gases. Basalt lined pipes are commonly used in industries such as mining, power generation, chemical processing, and oil and gas. The lining is typically applied through a process called thermal spraying or fusion bonding, which ensures a strong bond between the basalt lining and the pipe surface. Basalt lined pipes are also known for their high temperature resistance, which makes them suitable for applications where the fluid or gas being carried is at high temperature.
What is the process of basalt lining?
Basalt lining is a process of applying a layer of basaltic material to the interior of a structure or surface to protect it from corrosion or abrasion. The process involves the following steps:
Surface preparation: The surface to be lined is cleaned, stripped, and prepared, including surface profiling, to ensure proper adhesion of the basalt liner.
Material preparation: The basalt material is processed and fabricated into sheets, tiles, or sprayed coatings, depending on the requirements of the project.
Application: The basalt material is applied to the surface using various techniques, depending on the type of basalt liner used. Common methods used include casting, spraying, and troweling.
Curing: Once the basalt liner has been applied to the surface, it is left to cure for a specific time to ensure full adhesion and durability.
Quality control: The finished basalt lining is inspected to ensure that it meets the necessary standards and specifications before it is put into service.
What is cast basalt?
Cast basalt is a mineral material which, thanks to its special characteristics, is superbly suitable as wear protection: Cast basalt offers the following advantages: Exceptionally high wear resistance. Unlimited resistance to humidity. High compressive strength and resistance to nearly all acids and alkalis.
What is the hardness of cast basalt?
Cast basalt has a hardness of 7-8 on the Mohs scale.
Why is basalt used in construction?
Basalt is used in construction because it is a hard, durable, and dense rock that can resist abrasion, water damage, and weathering. It also has good insulation properties, making it an ideal material for constructing roads, bridges, buildings, and other infrastructure. Basalt is particularly useful in construction projects that require lightweight, strong, and fire-resistant materials. Additionally, basalt can be easily quarried and cut into various shapes and sizes to fit different construction needs.
Potrubí s čedičovou vložkou
Otěruvzdorná potrubí pro dopravu abrazivních materiálů
Otěruvzdorná potrubí vložkovaná aveného čediče nebo se používají nejčastěji pro pneumatickou dopravu práškových a jemnozrných substrátů do maximální rychlosti 22m/sek., nebo k hydraulické dopravě silně abrazivních materiálů nebo kalů do maximální rychlosti 2,2m/sek., a maximálních pracovních přetlaků 1,6MPa.
Čedičové vložky potrubí jsou velmi vhodné pro hydraulickou dopravu silně abrazivních materiálů a kalů. Pro pneumatickou dopravu v teplárnách, elektrárnách, dolech, přepravu různých abrazivních nebo chemických materiálů apod. Čedičové vložky potrubí lze použít do max. rychlosti 22 m/s (dle přepravovaného média) a teploty max. 400°C. Potrubní díly z vysoce legovaných ocelí byly nahrazeny speciálními čedičovými odlitky - oblouky, odbočkami, T-kusy, Y-kusy, tryskami, cyklony apod. - a tím došlo k prodloužení životnosti zařízení na pěti až dvacetinásobek.
Otěruvzdorná čedičová či eucorová obložení naleznete například zde
míchačky betonů a slévárenských směsí
žlabové řetězové dopravníky
vyložení mlecích bubnů
zásobníků uhlí, rud a písků
skluzy, mísiče, třídiče
redlerové dopravníky abrazivních materiálů
prostorová vyložení průmyslových zařízení
atd.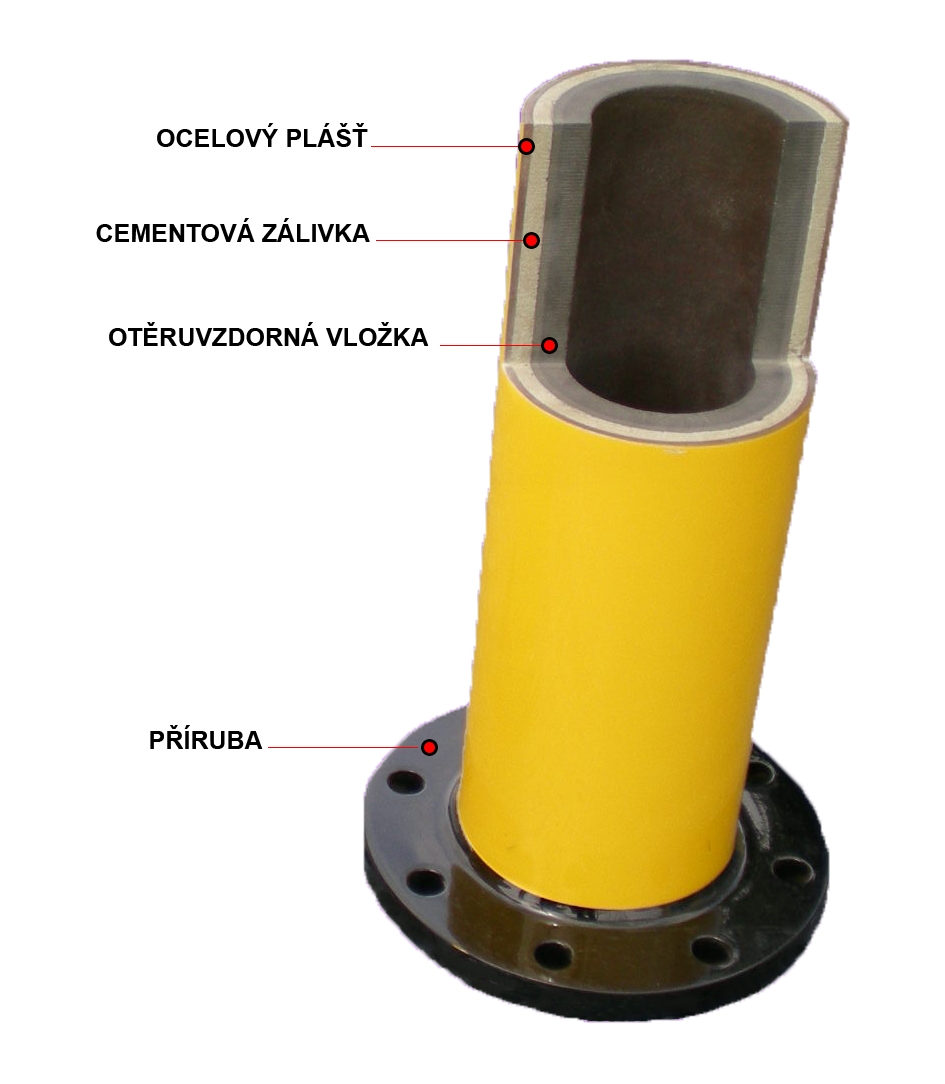 Abriebfest Rohr Basalt
Metallteile vor Abnutzung zu schützen. Dies gewinnt selbstverständlich bei der ständigen Erhöhung des Stahlpreis erneut an Aktualität. Mit Hinblick auf die ausgezeichneten Anwendungseigenschaften der Basalt- und Sunny Steel werden diese Materialien insbesondere als abriebfeste Einsätze von Rohrteilen verwendet.
Basalteinsätze sind sehr für den hydraulischen Transport von stark abrasiven Materialien und Schlämmen geeignet. Für den pneumatischen Transport in Kraftwerken, Bergwerken, den Transport von verschiedenen abrasiven oder chemischen Materialien usw. lassen sich Basalteinsätze bis zu einer max. Geschwindigkeit von 22 m/s (nach dem Transportmedium) und einer max. Temperatur von 400°C verwenden. Spezielle Basaltgussstücke - Bögen, Abzweigungen, T-Stücke, Y-Stücke, Düsen, Zyklone usw. - ersetzten Teile aus hoch legiertem Stahl und erhöhten die Lebensdauer der Einrichtung auf das Fünf- bis Zwanzigfache.
Sunny Steel sind für pneumatische Rohrtrassen geeignet, wo es eine höhere Belastung sowohl durch den Einfluss der Geschwindigkeit (bis 30 m/s) als auch durch die Temperaturbelastung bis max. 1000°C gibt.
Abriebfeste Auskleidung z.B.:
Mischer von Beton und Gussmischungen
Trogkettenförderer
Auskleidung von Mahltrommeln
Behälter für Kohle, Erz und Sande
Rutschen, Mischer, Sortierer
Redler-Förderer abrasiver Materialien
räumliche Auskleidungen von Industrieeinrichtungen
usw.