15CrMoG alloy pipe
15CrMoG is a type of alloy steel pipe that is commonly used in high-temperature and high-pressure applications.
15CrMoG steel tubes are also used in:
Hydraulic props
High-pressure gas cylinders
Chemical fertilizer plants
Petroleum cracking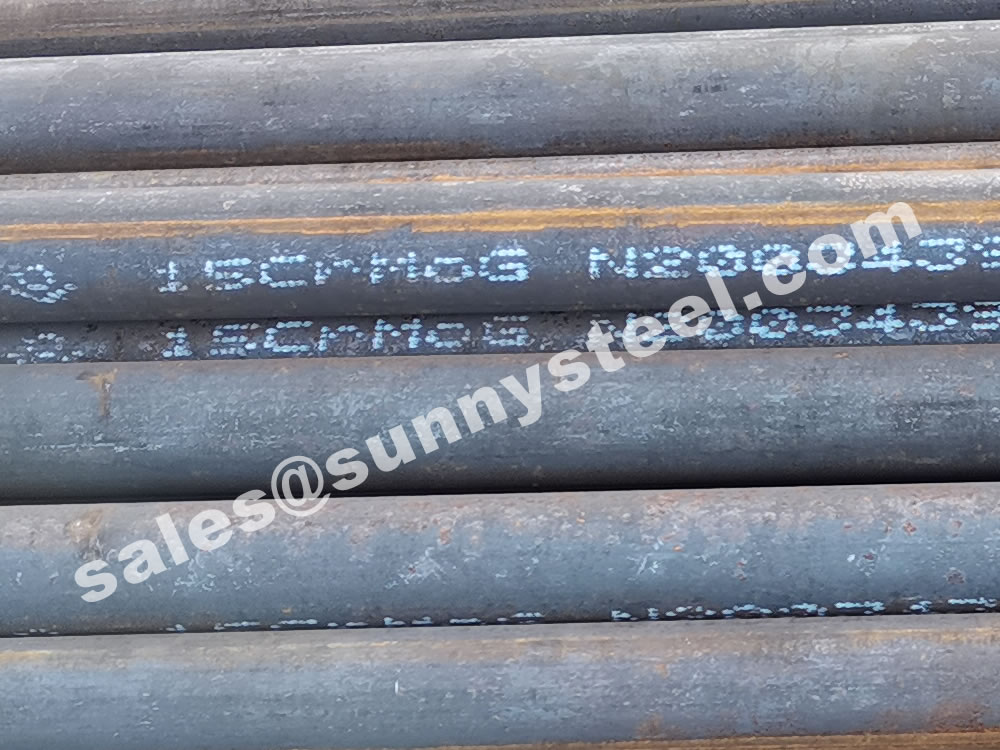 What is 15CrMo material?
15CrMoG alloy pipe is a seamless steel tube, its performance is much higher than the general seamless steel pipe, because the inside of this tube contains CR more, its alloy steel tube high temperature, low-temperature, corrosion resistance of other seamless steel tubes, so the alloy tube in the petroleum, chemical, electric power, boiler and other industries are more widely used.
The range of 15CrMoG alloy pipe sizes that may be examined by each method shall be subjected to the limitations in the scope of the respective practice.
For high-pressure boiler (working pressure 9.8MPa or more generally, the working temperature between 450℃-650℃) of heating surface tubes, header, economizer, superheater, reheater and so on.
The range of 12Cr1MoVG pipe sizes that may be examined by each method shall be subjected to the limitations in the scope of the respective practice.
15CrMoG alloy pipe is widely used in industries such as power generation, petrochemical, and boiler manufacturing, where it is used for superheaters, reheaters, steam pipes, and other components that operate at elevated temperatures and pressures. Its excellent mechanical properties, high-temperature strength, and resistance to creep make it suitable for demanding environments where resistance to corrosion, oxidation, and high-temperature stress is required.
What is 15CrMoG Alloy Pipe?
15CrMoG alloy pipe is a type of high-temperature and high-pressure steel pipe known for its exceptional strength, toughness, and resistance to corrosion and oxidation. It belongs to the family of alloy steels, which are specially designed to withstand challenging environments and demanding industrial applications. The "15CrMoG" designation refers to its chemical composition, with 15% chromium and molybdenum being the main alloying elements.
Composition and Material Properties
The chemical composition of 15CrMoG alloy pipe plays a crucial role in its mechanical properties and performance. The presence of 15% chromium and molybdenum imparts excellent high-temperature strength and creep resistance. Additionally, the alloy contains carbon, manganese, silicon, and small amounts of other elements, contributing to its overall properties.
The mechanical properties of 15CrMoG alloy pipe are impressive, making it suitable for use in extreme conditions. It exhibits high tensile strength, superior toughness, and exceptional resistance to deformation under high pressures and temperatures.
Manufacturing Process of 15CrMoG Alloy Pipe
The manufacturing process of 15CrMoG alloy pipe involves precision engineering and advanced techniques to ensure its quality and reliability. The production starts with the selection of high-quality raw materials, followed by melting and refining processes to achieve the desired chemical composition. Subsequently, the pipe undergoes hot rolling, cold drawing, and heat treatment to attain the desired mechanical properties.
Applications of 15CrMoG Alloy Pipe
15CrMoG alloy pipe finds applications in various industries due to its remarkable properties. Some of its key applications include:
Power Generation
In power plants, 15CrMoG alloy pipe is widely used for high-pressure steam piping, boiler tubes, and superheater tubes. Its ability to withstand high temperatures and pressures makes it an ideal choice for power generation applications.
Petrochemical Industry
In the petrochemical industry, 15CrMoG alloy pipe is employed in the transportation of corrosive fluids, such as oil and gas. Its resistance to corrosion ensures a safe and reliable transfer of these substances.
Boiler and Pressure Vessel
Boilers and pressure vessels require materials that can endure extreme conditions. 15CrMoG alloy pipe is often used in the construction